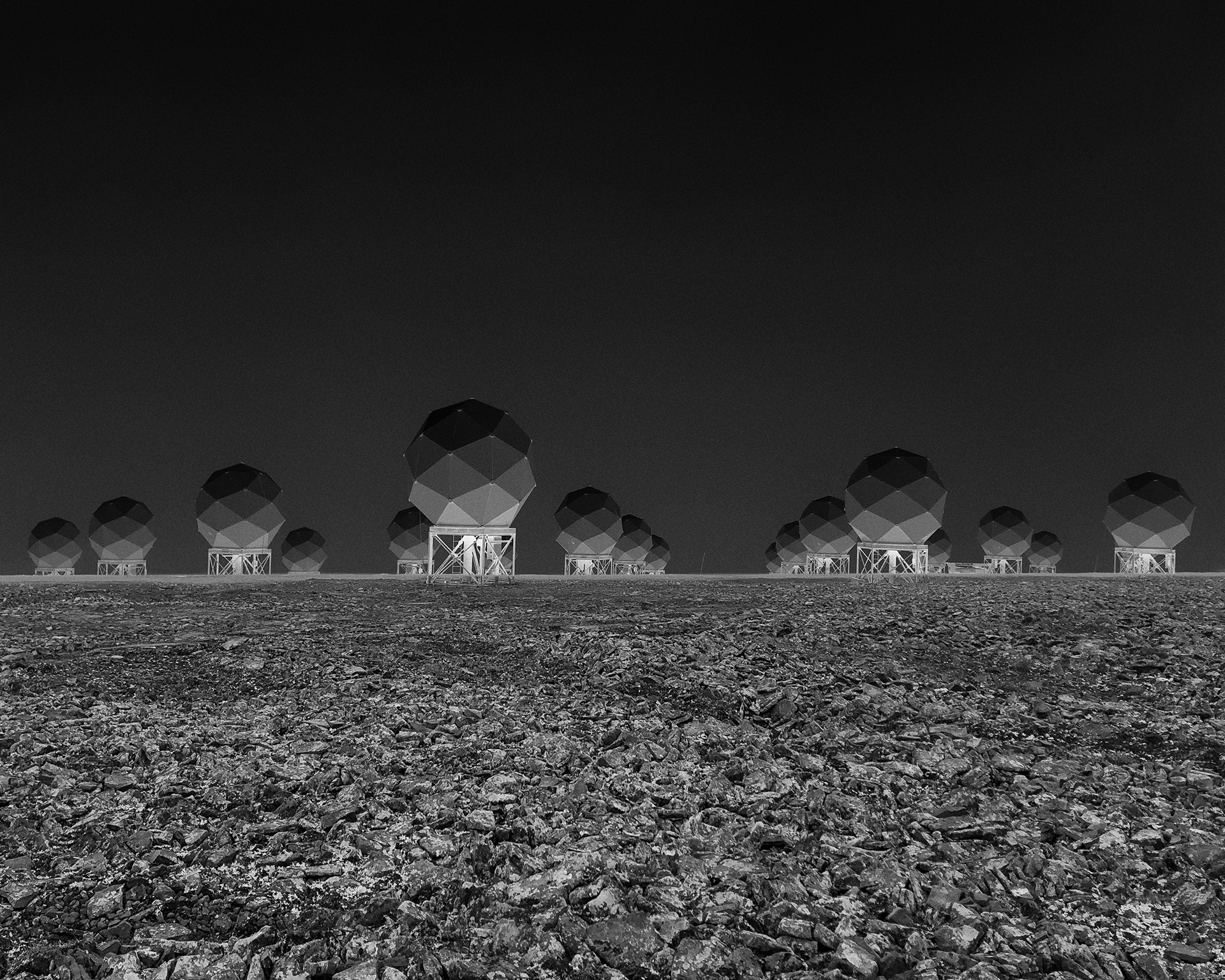 Frozen Horizon by Ulla Schildt, Stein Henningsen, and Elly Stormer Vadseth
Group exhibition
Exhibition opening: April 7th from 18.00 to 21.00. On view until May 8th.
Opening hours: Friday to Sunday from 13.00 to 17.00 / Oslo Open from 12.00 to 18.00 / Closed during Easter holidays (April 15th – 17th)
Clouds of mist drift over a mountainous background, turning the landscape into a sea of fog. A man in a dark coat and boots overlooking a cloudy landscape steady himself up with a cane. With his back to us, he stands on a dark, craggy rock. He is gazing at a vast, unknown territory, a horizon of fog. Nature, wild and unbridled stretches to the horizon aiming to evoke the viewer into the sublime. The man, however, is the physical centre and focus of the painting.   
Over the past two centuries, Casper David Friedrich's painting The Wanderer Above the Sea of Fog has (1818) become a cultural and even a political icon. A dominant human figure is not only the centre of our understanding and interpretation of nature but who has also radically altered nature´s equilibrium as a consequence of modernity.   
Bearing this image in mind two hundred years after its creation, I wonder how we position our bodies today when we stand in the landscape. Has the current rapid climate change and its environmental, global, social, and political consequences changed our perspective?   
This exhibition revolves around understanding the concept that "every event in human history has been a more- than- human event."1 Every human-made infrastructure and circumstance has an impact on the ecology around it. At this point the changes fostered by human-made infrastructure have developed and are spread beyond human control.   
While the consequences of Covid-19 have not yet been overcome, it appears that they may have an impact on human understanding of their relationship with non-humans. The war in Ukraine and its ecological and geopolitical consequences show that we have not yet left this path behind. 
"Frozen Horizon" is a cautionary look at the current state of the world and it reminds viewers of the urgency with which we must rethink our relationship with more than human forms of life.   
Tenthaus Collective is proud to present works by Ulla Schildt, Elly Vadseth and Stein Henningsen in Frozen Horizon. Together they articulate a position that resists the environmental, political and social horizons of the landscape of the future. 
Text by Shahrzad Malekian, curator of Frozen Horizon.
Tsing, Anna L., Jennifer Deger, Alder Keleman Saxena, and Feifei Zhou. Feral Atlas: The More-Than-Human Anthropocene, Redwood City: Stanford University Press 2021, http://doi.org/10.21627/2020fa
ULLA SCHILDT is a visual artist primarily working with analogue and digital photography, currently based in Oslo, Norway. Schildt has exhibited widely in Norway and internationally, at Fotogalleriet, Akershus Kunstsenter, Bærum Kunsthall, Kristiansand Kunsthall, the Norwegian Museum of Science and Technology, Hasselblad Center (Gothenburg), Galleri Hippolyte (Helsinki), and Fotografisk Center (Copenhagen). The work The Garden was shown at Henie Onstad Kunstsenter as part of the exhibition Norwegian Documentary Photography in 2019/20 and in the book Norwegian Journal of Photography.
Many of her works thematize a changed concept of nature, related to the climate crisis. The human age, the Anthropocene, is characterized by long-term crises: the forest is burning, the ice caps are melting, biological diversity is disappearing, and the climate is changing rapidly. Schildt's work depicts how nature has been marked or recreated by humans. The selection of photographs explores questions concerning the psychological understanding of nature that we carry within us and the current state of rapid ecological change. What are our points of reference and role in the world? What will our legacy be? Beneath the surface, a political undertone is now more relevant than ever. Who owns the land when the ice is melting? If we need to change the whole of our structural understanding of the world, are we capable and ready to do so? 
The exhibition is supported by the Fritt Ord Foundation (2022), Arts Council Norway (2021), Norwegian Visual Artists Fund (2020), and the Bergesen Foundation (2020). Images taken in Svalbard were made possible by the Government Grants for Artists/ Miscellaneous Grant (2021) and support from the Norwegian Professional Photographers´ Foundation (2020). 
STEIN HENNINGSEN is a performance artist living in the Arctic archipelago of Svalbard. He has presented his work at various biennials, festivals and events in Scandinavia, Europe, North America and Asia since 2005. Henningsen is influenced by photography as traditional media, often thinking of his performances as vivid images or visual poetry. His work 
addresses political, social, financial and climate issues in a contemporary context. 
Henningsen's goal is to create provocative images that resonate with audiences over time— to get them to reflect on their complicity with regard to global issues. He is currently working on several new major projects that will continue to address issues that focus on the current state of our planet. 
Recent works have focused on climate change and the challenges we face, and, since he actually lives in the Arctic he is all too aware of the reality of those challenges. "Today we are living with the result of choices made by our ancestors. As we lay the foundation for our children and future generations, it is critically important that we now make wise choices about how we live and how we govern ourselves."
ELLY VADSETH USA/NO is a transdiciplanary artist, multispecies choreographer and researcher currently based between a peninsula in the Oslo Fjordand Boston, USA. Employing embodied research methods and technology she makes works thatseek toimagine, speculatively establish and animate connections within human and more than human ecology(s).
This work is in dialogue with discourses and theory within eco/hydro feminism, bio arts, posthuman choreography& Philosophy. Through her nonlinear work she seeks to create dreamlike environments wherehuman and nonhumanbody(s) morph opening up new physical and temporal space for movement. Rooted in the sensing body, her current artisticprojects are invested In the corporeal spanning singlemultichannel video installation, video performance, hydro/ geo choreography, Eco somatic,Expanded reality and photography. She holds an interdiciplanry MFA from School of the museum of Fine Arts at Tufts University, Bostonin video arts, choreography and performance theory. Recent projects have been performed in public space, shown, screened and installed in museum, galleries, in, on and around rivers,oceansand forests. Recent projects have been exhibited at the National Museum of Science and technology (2021, NO), Skåne Kunstforening (2021, SE), Kunstplass Contemporary Art, Oslo (2020, NO), Henie Onstad Contemporary Art Center (2019, NO), Difrazioni (2019, IT), Adelson Gallery (2019 USA), The Museum of Fine Arts Boston (2018, USA)among others. She is part of a working group connected to the residency Climata: Capturing Change at a time of Ecological crisis at PRAKSIS OSLO. She is currently working on two public commissions SYKLUS MEMORIA for Future built projects in Asker, NO. and works and her larger rhizomatic work SENSATE BODY(S) past, present, futures 2020-.