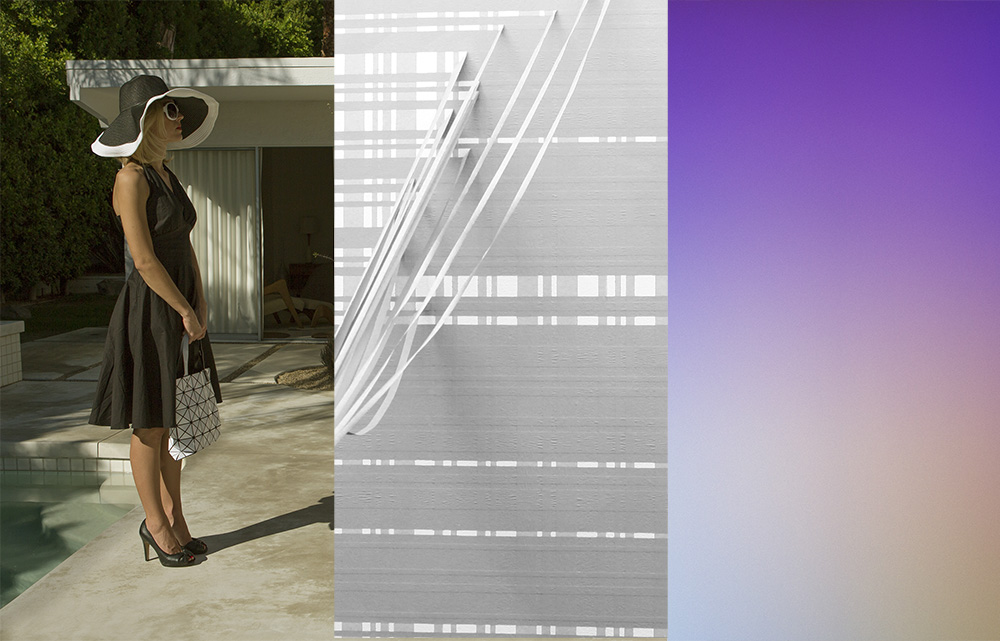 LIVING IN COLOUR
SABINA JACOBSSON, KRISTIN NORDHØY AND TAMMO RIST
What is the world showing us ?
Tenthaus Oslo invites you to Living in Colour where the overaching theme of painting is explored by three artists. They have have made new works based in which the common denominator is opical illusion and colour´s relationship to the real. Rather than offer us a representation of the world, they draw us into the very essence of light with their almost phenomenological approach, leaving us to consider an interpretation of the world of our own visual experience.
In Living in Colour, the artists investigate our relationship to our surroundings, through their understanding of the concrete world surrounding us, as well a human behaviour.

Sabina Jacobsson´s The Collectors is a short film based on four David Hockney paintings from the period 1965-1972. The film also touches his theories on the secret knowledge of our old masters from his book in 2001, 2006. Rediscovering the Lost Techinques of the Old Masters. Through film, photography and installtion Jacobsson reveals the roles, status positions, as well as the relationships between groups and individuals as fundamental to regulating patterns of social behavior. Her narratives illuminate cultural solidarity with a political awareness. The Collectors is funded by the Council for Culture, Norway, the Norwegian Photographic Fund, the Norwegian Fund for Visual Artists
Synopsis:
Mr. Stone had ambitions of being a painter in his own right, but he was never successful despite several gallery shows. He turned to forgery to make ends meet. While he seems to have been somewhat bitter about the fact that he struggled to sell art under his own name, ideology was not his overriding motivation. He attempted to return to a legitimate painting career several times but ended up relapsing once he had invariably exhausted his finances. He had teamed up several years ago with the collectors Elizabeth Turner and Dominique Green who acted as his selling agents but also often pocketed most of the profits. Ms. Turner and Mr. Stone had one passion in common and that was to go deeper into the secret knowledge of our old masters.
Kristin Nordhøy´s work Side Vision presents us with a play on reality; elements are copied, repeated, moved or displaced. She manipulates our perception by disturbing the eye´s attempt to focus. The strictly geometrical paintings are, on closer inspection, rich with traces of a manual process; the structure of the linen canvas and the outlines of the hand-painted color initiate a dialogue with the ethereal quality of the optical distortion that arises from the paintings. Overlapping wave patterns create an effect that seems moving and liquid: a moiré.
Tammo Rist RAYS / Spot Off – photography series mounted on lightboxes. The artist has allowed light directly into the camera; these pictures are taken without a lens and with analog, as well as digital cameras. The photographs that arise draw attention to elementary photographic principles, where light and color take center stage. The shapes that form are incidental and unencumbered from any kind of narrative or story.
ABOUT THE ARTISTS
SABINA JACOBSSON graduated from The Academy of Fine Arts in Trondheim Norway 2000. She has had screenings both in Norway and abroad. She also works with video design for dance and theatre performances and she is a lecturer at various art schools in Oslo. Jacobsson received Guaranteed Income for Artists from the Norwegian Government in 2012.
KRISTIN NORDHØY (d.o.b. 1977) lives and works in Oslo. She has participated in numerous group exhibitions and several solo exhibitions after completing her MA in Oslo in 2006. Her solo exhibitions include Holodeck (2012), Volt (2011), Tegnerforbundet (2010) and Lautom Contemporary (2007 and 2010). In 2013 she participated in group exhibitions Copy Paste Add Layer at Anger in Helsinki and at the SPACEGRIDS exhibition at Telemark Art Center.
TAMMO RIST (d.o.b. 1976) graduated from the University of the Arts, Berlin (1998) and Kunstakademie Düsseldorf in 2004. He has exhibited at international art events and spaces such as inter alia, the Venice Biennale, Künstlerhaus Bethanien, Kunsthalle Bonn, Kunsthalle Hamburg, Andrew Kreps Gallery, NY, the Biennale for Young Art, Turin, the National Annual Autumn exhibition in Oslo and the Norwegian Drawing Biennial. He is the initiator of the First Transnational Republic project.