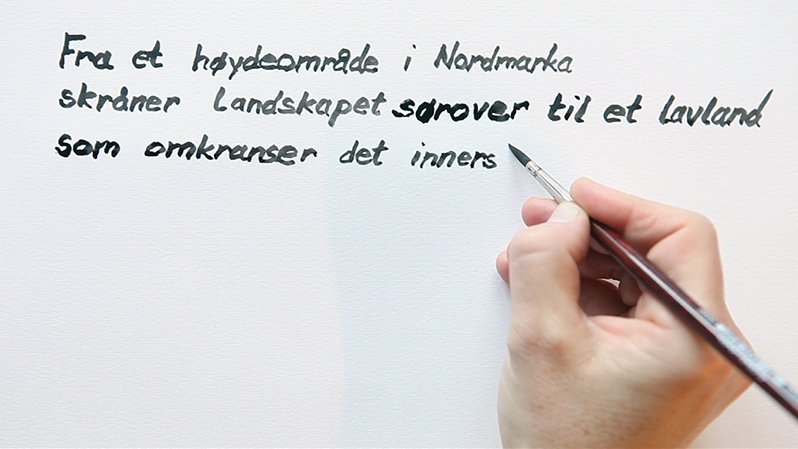 OSLO'S GEOLOGY AND LANDFORMS
ANNA CARIN HEDBERG AND EBBA MOI
Oslo's Geology and Landforms with Anna Carin Hedberg and Ebba Moi is the third in a series of three exhibitions in which the initiators of Tenthaus Oslo collaborate with colleagues creating new works for the Tenthaus Oslo project space.
Oslo's Geology and Landforms is a participatory artwork. From a geological perspective the artists, together with students from Hersleb High School, examine their local environment. Based on rocks, minerals, crystals and volcanic material in the Geological Museum as well as clay imprints from the backyard of Tenthaus, an archive of experiences is created.
"Hedberg and Moi instruct us to the bedrock surrounding in Oslo streets and walls. Dirty rags and casts of surfaces capture the damp breath of the city revealing difference within apparent similarities, hinting at the future of a living city." (excerpt from text by Helen Eriksen)
Billedkunstnernes Vederlagsfonds Prosjektstøtte supports the exhibition.
Anna Carin Hedberg and Ebba Moi have collaborated in several art projects. Their works explore the cultural changes in society through looking at structures to examine the processes of change. They are presently showing a film and sound work at the Museum of Contemporary Art in Oslo, in the "I am your phone"program.
They have shown their collaborative work in several art venues including Kristiansand Art Hall, Grimstad Short Film Festival, Cinematheque, Oslo, Larm festival in Stockholm and Lørenskog Civic Hall in a public art piece.
Ebba Moi is a member of Tenthaus Oslo and has participated in numerous exhibitions and projects since leaving the art academy in Trondheim (KIT) in 1999. Anna Carin Hedberg, also metriculated from KIT in 1999. She has created several public art projects and participated in many exhibitions. She is one of the initiators behind Torpedo, Oslo´s art bookshop and publisher. She presently works as a curator at the National Museum of Art.
Opening reception Thursday 20th November 7 – 9 pm
20.11 – 7.12 2014 Performance Geological changes 20.11 at 7.30 pm.
Photo by Øystein Thorvaldsen