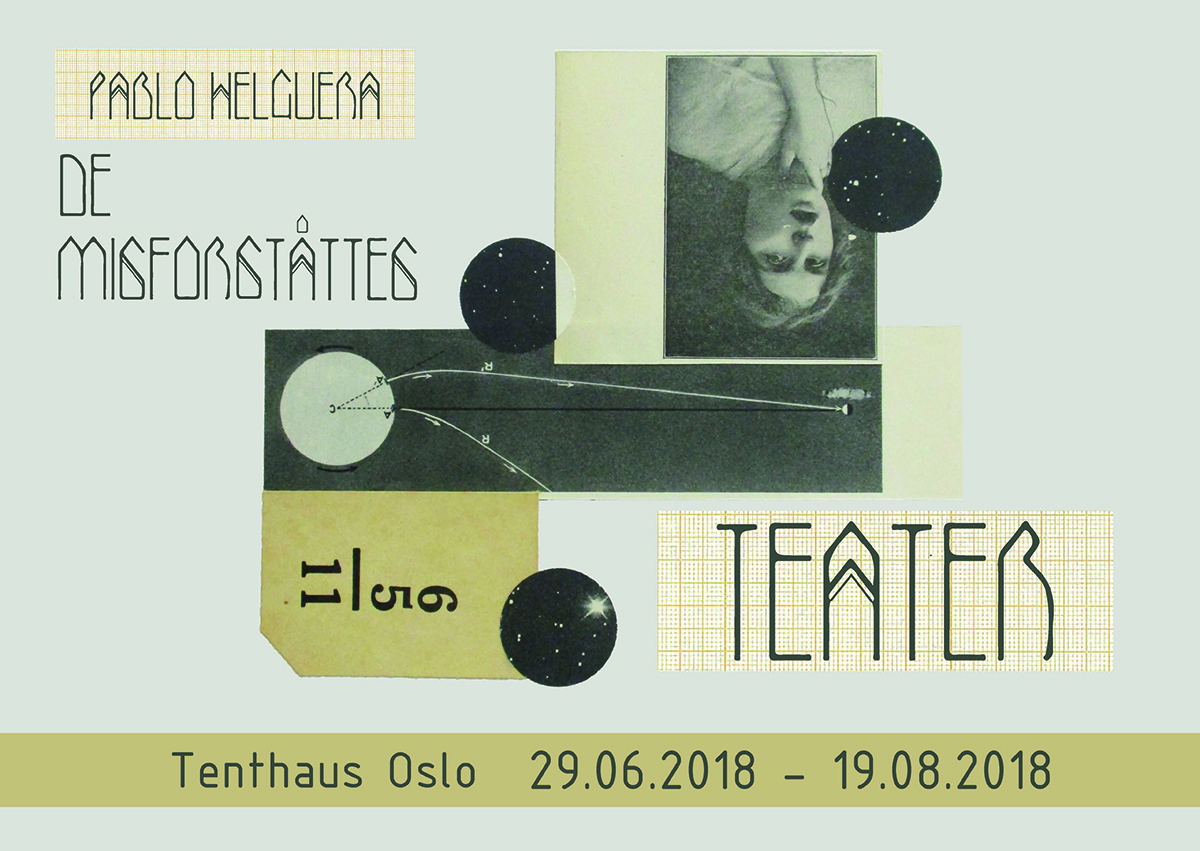 FOR DEL INCOMPRENDIDO / TEATRO DEL INCOMPRENDIDO WITH PABLO HELGUERA
Tenthaus would like to invite you to Pablo Helguera's Foro del Incomprendido on Saturday 9th of June.  
El Foro del Incomprendido is the first part of a two performance serie and an exhibition at Tenthaus Oslo. A series of salon-style gatherings with the artist will result in workshop with participants giving a short speech about how they feel misunderstood. 
Subjects can range from being misunderstood in an emotional relationship, due to gender identity, ethnic origin, faith, or political affiliations. 
Would you like to participate? Please send an email for registration at forodelincomprendido@tenthaus.no
Foro del Incomprendido er en lukket workshop med kunstneren Pablo Helguera. For å delta kreves påmelding til forodelincomprendido@tenthaus.no
Det er få plasser igjen!
El Foro del Incomprendido er den første delen av Teatro del Incomprendido en utstilling og en performance-serie i to deler.
I El Foro del Incomprendido bruker kunstneren Pablo Helguera salongstilen for å invitere til en workshop hvor han ønsker å gi en stemme til de missforståtte. Her vil deltakere kunne gi en kort tale om hvordan de føler seg misforstått.
Emnene kan variere fra å bli misforstått i et emosjonelt forhold på grunn av kjønnsidentitet, etnisk opprinnelse, tro eller politiske tilknytning eller annet.
Ønsker du å delta? Vennligst send en e-post for registrering på forodelincomprendido@tenthaus.no
El teatro del incomprendido / De misforståttes teater
29.06 – 19.08.2018 (closed in July) 
Tenthaus Oslo, Maridalsveien 3
Tenthaus Oslo is proud to present Pablo Helguera's El teatro del incomprendido / De misforståttes teater opening 29. June 2018. Helguera will work with local participants in this project and is presenting a series of new works. 
PABLO HELGUERA is a New York based artist working with installation, sculpture, photography,drawing, socially engaged art and performance. Helguera's work focuses in a variety of topicsranging from history, pedagogy, sociolinguistics, ethnography, memory and the absurd, informats that are widely varied including the lecture, museum display strategies, musicalperformances and written fiction.His work as an educator has usually intersected his interest as an artist, making his workoften reflects on issues of interpretation, dialogue, and the role of contemporary culture in aglobal reality. This intersection is best exemplified in his project, "The School of PanamericanUnrest", a nomadic think-tank that physically crossed the continent by car from Anchorage,Alaska to Tierra del Fuego, making 40 stops in between. Covering almost 20,000 miles, it isconsidered one of the most extensive public art projects on record as well as a pioneeringwork for the new generation of artworks regarded under the area of socially engaged art.
DE MISFORSTÅTTES FORUM / DE MISFORSTÅTTES TEATER
Saturday 9 June 2018
10am-2:30pm
Doors open 9:45
Coffee and refreshments will be served.