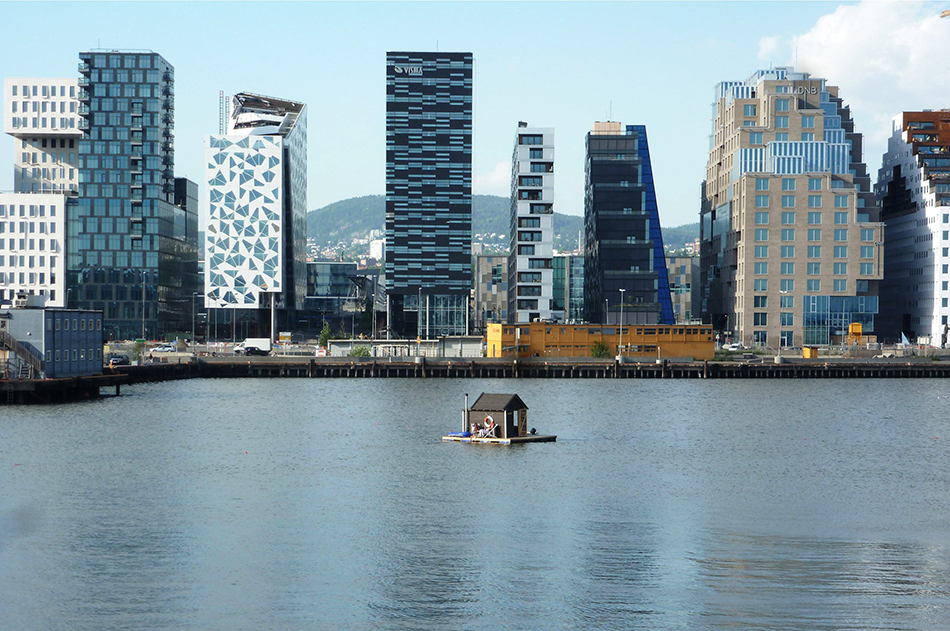 THE ISLE
BY PFELDER AT BJØRVIKA
The Isle is produced by Pfelder
in collaboration with Tenthaus Oslo and Hav Eiendom
The Isle is a participatory art project consisting of a floating cabin made with recycled material where participants are offered free overnight accommodation. The Isle in the centre of Oslo anchored in the Bispevika harbour between Paulsenkaia and Bispekaia offers free overnight accommodation through reservation.
Pfelder´s work creates an intimate atmosphere for its participants and sets a stark contrast to its more polished neighbours: the Opera, the Bar Code development and new luxury apartment blocks.
This free space can be seen as the potential for an alternative that can access and occupy public space as a counter to the urban re-development strategies prevalent in the processes in Oslo´s inner city. The Isle is also inspired by Norwegian traditions of cabin life and the movie Seom – The Isle directed by South Korean film maker Kim Ki-duk.
Pfelder is a visual artist living and working in Berlin. His artist practice encompasses public art projects, exhibitions and direction of international art projects as Kurt-Kurt project space in Berlin.
The Isle is produced by Pfelder in collaboration with Tenthaus Oslo and Hav Eiendom and is funded by Norsk Kulturråd, Kunstløftet, Bjørvika Utvikling AS, Nordic Black Theatre, Anne Beate Hovind, Craig Dykers and Elaine Molinar.
Also thanks to Cinderella toilet systems for providing us with a green toilet.
23.05 – 23.06.13