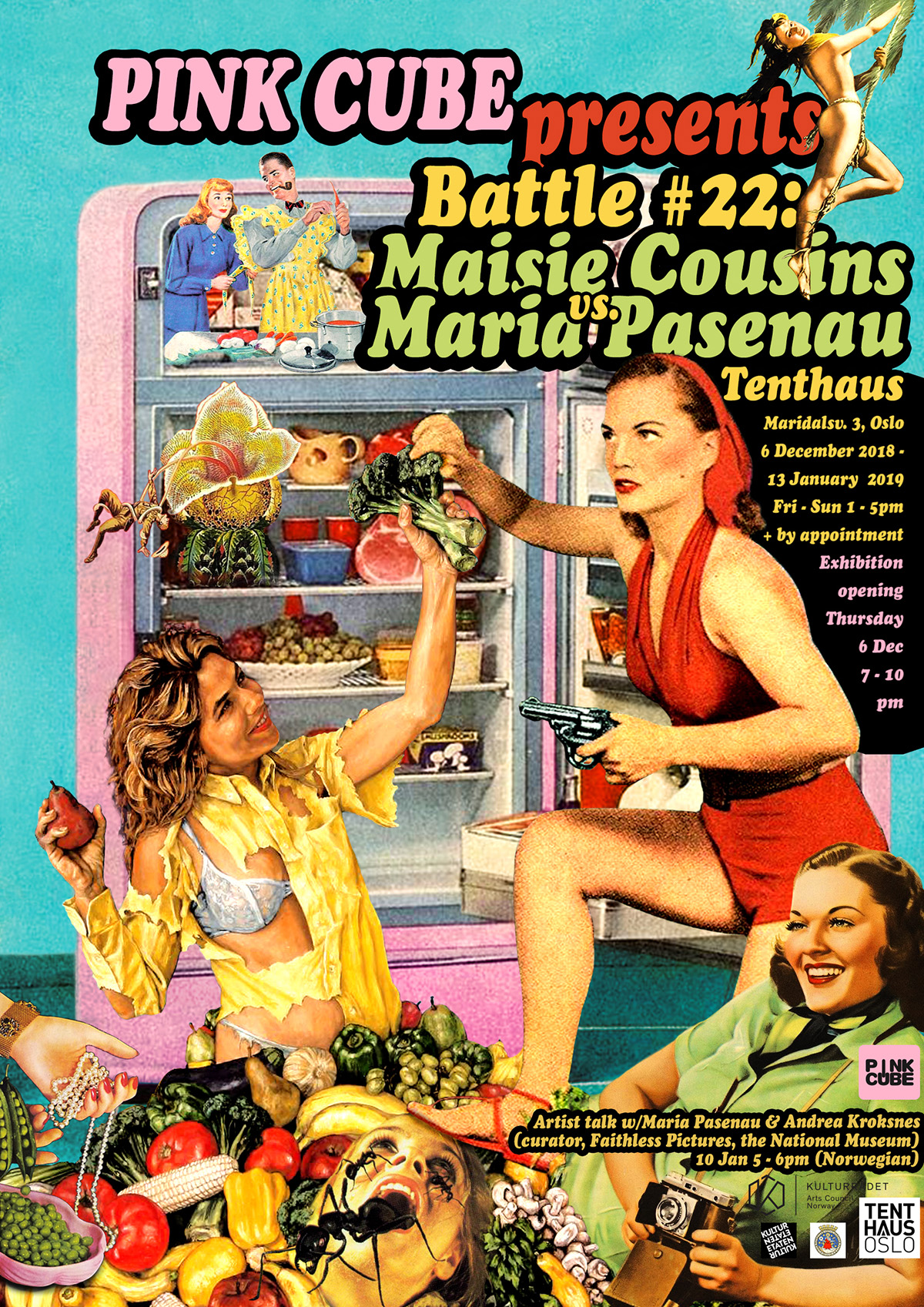 PINK CUBE BATTLE #22 TAKE OVER BY ANJA CARR
PINK CUBE (Oslo) proudly presents
BATTLE #22: MAISIE COUSINS (UK) VS. MARIA PASENAU (NO)
London-based MAISIE COUSINS (b.1992) introduces her sickly, sticky and sweet creations, in the form of luxuriant, large photographs from her ongoing "Rubbish"-series, including some brand new works from a very recent trip to Mexico in this exhibition – her first in the Nordic region. The British artist, who has presented two solo exhibitions in London, and at group shows in the US and Italy, proves that one woman's rubbish is another's treasure: the installations she constructs for her photographs are made out of things she is seduced but others might be repelled by, from food stuffs to everyday frippery. Her close-up visions are stuffed to the brim with unexpected juxtapositions of textures and colours, so tangible you can almost smell them. In a world where we always consume first with our eyes, Cousins is a complicit creator, but one who doesn't shy away from the more unsavoury parts of life. Though at first sight her mess appears to be desultory, her compositions are carefully composed to stimulate the viewer's senses as much as their minds. Always interested in base human desires, whether it´s sex or hunger, Maisie's images comment on the contemporary need to consume, and the cosmopolitan idea of indulgence – whether it's in a sausage roll or a Chinese dumpling.
Oslo-based MARIA PASENAU will hang a new series of small photographs at PINK CUBE – a sort of analogue stop motion, that deal with our disoriented state of self in her unique diaristic style, as well as presenting new sculptures and a text-based work. Working with different medium, her practice is rooted in analogue photography. Where Cousins seduce using objects and the absence of models for this exhibition, Pasenau does the opposite, shooting portraits of people she knows and herself – but both belong to the same frenetic, fully-charged environment. Sharing a sense of playfulness, delight and intimacy with Cousins, Pasenau, 23, was recently included in "Faithless Pictures" at the National Museum, Oslo, alongside the likes of Richard Prince, Cindy Sherman and Hito Steyerl; a cross generational exhibition examining the ways images dominate and manipulate our sense of reality and ourselves. In photography, there is no longer any truth, and Pasenau is part of a generation that has grown up knowing this. Instead she uses the camera as a disrupter, to agitate, and as a stage for the theatre of the self. Fiction narrates the truth more closely than reality. Like Cousins, Pasenau collects things, images with an interest in interplay of surfaces, as well as contemporary excess and desire – often presented as multiple images and objects – an overload of visceral emotions, viscous bodies, and unexpected encounters.
– Charlotte Jansen, Editor at Large, Elephant Magazine (London, UK)
PINK CUBE is a pink exhibition space with walls coated in paint containing bodily fluids – an alternative to the sterile, male dominated white cube, founded by CEO and artist Anja Carr in January 2011. Situated at Grønland, Oslo until 2016, it is now a nomadic space, with the possibility of traveling to different venues and countries with it's unique wall-paint, in this case to Tenthaus Oslo. The exhibitions are art-battles between two artists or groups, aiming to boost fruitful artistic dialogue among artists from different generations and/or locations. Welcome to the game! In addition there will be a slide-show with images from PINK CUBE's 21 previous battles and some other special treats.
TENTHAUS OSLO is a project space initiated by Oslo-based artists Helen Eriksen, Ebba Moi and Stefan Schröder. From spring 2016, Mechu Rapela joined the Tenthaus team. Tenthaus Oslo's profile is characterized by an open, process-oriented form of participation from an internationally orientated group of artists. The context of contemporary art practice is re-examined through a broader field of activity with exhibitions, workshops, artist's talks and live performances. As PINK CUBE, Tenthaus has a large proportion of female exhibitors.
The exhibition is funded by Arts Council Norway and The Municipality of Oslo, The Agency for Cultural Affairs

6 December 2018 – 13 January 2019
Exhibition opening Thursday 6 December 7 – 10pm
(closed 22 December – 3 January)
Artist talk w/Maria Pasenau & Andrea Kroksnes
(curator "Faithless Pictures", the National Museum)
10 January 5 – 6pm (Norwegian)