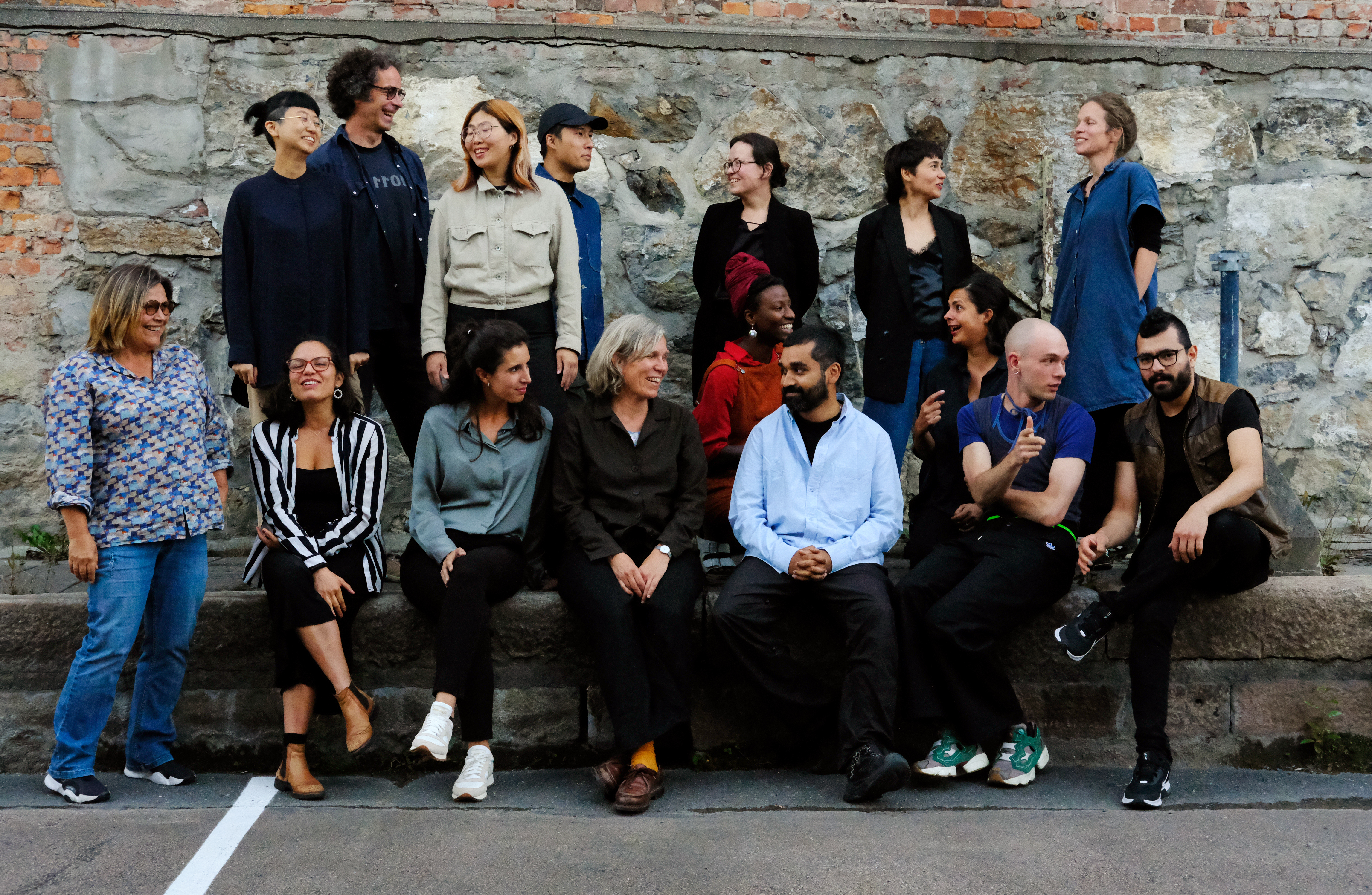 Exhibition open to the public at Store Gilhus gård from 14 Sept to 9 October
(Polyphonic suggests the harmonic possibility of producing more than one independent melody at a time in a single composition) 
Imagine that it is a sunny day in May and you are lying under a cherry tree in full bloom somewhere in Lier municipality the sun is filtered by leaves and petals. Close your eyes for a second and listen to the orchestra of bees searching for pollen. Whilst each bee has its own hum, in that tree, their many signature sounds are amplified into a symphony of collective endevour.  
In many ways, this is how the Tenthaus art collective functions; each individual  practice both resonates through and amplifies itself through collective work. In this exhibition we choose to filter individuals into identifiable artist practices, and allow the audience to see beyond the collective symphony of the creative contrasts within it.
The Artists
Enrique Guadarrama Solis  is a Mexican visual artist based in Oslo. His practice explores colliding concepts such as tradition/technology, analogue/digital and magic/logic, oscillating between randomness and structure. Focusing on process and intuition he challenges the boundaries of traditional printmaking through systems, objects, installation and performance. 
My recent work is an experimental approach to Print centered on the graphic object, sculpture, performance and installation. It hints at the role of analogue-based or obsolete technologies today, and the value of labor in relation to cultural production. I designed and built The Machine, a versatile wooden press that can generate large-scale color prints. It uses a series of Wooden Rollers with textures carved on their surface, living sculptures that can be activated through their use. By using materials, tools and processes that configure analogue image-making I intend to explore and challenge the concept of the image in the present. Through a systematic approach to the print possibilities of my Rollers I intend to reveal and potentially transform our engagement with the very structures that configure images and printed media. 
 
Alejandra Aguilar Caballero  is a Mexican visual artist currently based in Oslo, Norway. In her practice she moves playfully between drawing, traditional printmaking, installation, artist publications and graphic narrative/comics. Through her work she creates unique storytelling approaches that explore memory, identity, nature, and the way changes in personal contexts generate unexpected encounters. 
Alejandra holds a Bachelor degree with Honors in Visual Arts from Facultad de Artes y Diseño at Universidad Nacional Autónoma de México (2010-2014). In 2021 she graduated from the MFA in Medium and Material Based Art at Oslo National Academy of the Arts. She obtained the Scholarship for International Postgraduate Studies FONCA-CONACYT 2019. She has participated in multiple collective exhibitions in Mexico, Norway, Spain, Czech Republic, Poland and Bulgaria and has presented her work in solo exhibitions in Mexico and Norway. She has also been selected in national and international competitions and biennials. 
The artwork Memory Sightings centers on the interaction between drawing and narrative. During my residency at P1 in Lier I created a large-scale drawing that captures my daily route from Lier's train station to Gullaug Skole where the containers were placed. The drawing shows the winter Lier landscape with different elements that tell a non-linear narration of my time during the residency. 
 
Stan D'Haene (b.1994, Belgium) is a water based artist currently gardening in Oslo, Norway. Some of the methods central to their practice are rituals, rewriting, appearances, and graffiti. They investigate self-organized dissemination via small-press and video, and alternative exhibiting approaches such as off-site and online. They invite you to travel along and explore the value of process-oriented art, open scripts and the spiritual experience of the journey. Stan is a member of Tenthaus collective where they garden the gallery since 2019. Most recently they have exhibited at Nitja, Lillestrøm, Komplot Brussels, and Street Art Oslo. Since 2018 they perform an annual participatory spring ritual with Bart Van Dijck. Other collaborators include Cincio Odd Couture, Sadrie Alves, and Kier Cooke Sandvik. standhaene.be / @stan.dhaene 
In search of common roots or a sense of belonging, Mini Turbini has been posing in two gardens this year since its exit from the studio. In a way it has never left the studio, but its context has changed and influenced the materiality of its body. The invasive windmill continues to colonize new sites as it settles on Gilhus Gård. Similarly to Catholic site rewriting, we see cases of green colonialism today in Norway. Indigenous Sapmi lands are targeted for the installation of wind turbines to generate green energy. Sami are forced into 'contributing' to a so-called green revolution, while wind farms threaten their ways of farming and hunting. Writings on the turbine blades are traces from an absurd act of chivalry performed by the artist as Don. 
Stefan Schröder works with drawing, photography, sculpture, installation, and participatory art. Encounters with people, places, and their embedded narratives, as well as found materials and processes of re-use, are often starting points for his research-based works. The artistic practice is exploratory and open for participation by sharing ideas, experiences, and resources. He likes especially to invite younger people into his praxis. Schröder believes that art is necessary, beautiful, disturbing, and timeless at the same time. It works as a bridge-builder in society. Together with other members from the Tenthaus collective, where he is a founding member, Schröder is invited for the upcoming exhibition at The National Museum of Norway, entitled I Call It Art, that opens in June 2021. Late autumn 2020, Schröder was commissioned for Nye Vinne and Ness public school in Verdal, Norway, with a mural entitled Golden Moments. 
The two wooden reliefs, Linedance and Winddance, are inspired by nature and experience; a week with solid fiber and leftover materials from a commission for a public school in the Norwegian small town Verdal, known for its solid history in producing oil platforms, and maybe soon, offshore windmills. Well, let's hope so.  
The photograph called Green Work is about an exchange made back in 2005. For one season, a whole farm on the Norwegian island Vågøy, owned by a friend, could be used in exchange for taking care of the meadow. The beautiful island on the south coast, close to Kragerøy, became our summer residence and meeting point and a studio for art and creation. Green work is one of the results of that working period. 
Billie McTernan & Okhiogbe Omonblanks Omonhinmin Billie McTernan artist/writer & Okhiogbe Omonblanks Omonhinmin ambassador of entanglement as a collective are interested in what connects us as an ecosystem, the relationships between animate and inanimate things. Merging forms and mediums they find an interdisciplinary language through their work.  
HOW I BECAME AN ANT LIVING IN LIER  It began in Lier. 
The 20th and 21st centuries have seen humans become increasingly focused and driven by production, which has seen us lose our innate ability to connect with the spaces we inhabit and move through. Artists Billie McTernan & Okhiogbe Omonblanks Omonhinmin found their way through Lier with questions tracing the relationship between a city/community, its people, nature and the things that merge them together.To do that we embarked on a journey into the past, present and possibilities for the future of Lier, with the help of the students & teachers of Gullaug skole we had several conversations about life, school, family and interacted with nature and the community at large as our collaborators. 
Helen Eriksen is an artist and educator based in Oslo. Her work focuses on issues of public art and developing artist practice in socially engaged art projects. She has taught and lectured at all levels of the Norwegian educational system and continues to make art both in collectives and as a solo practice. She is interested in self organisation and artist practice and the manner in which the role of the artist is shifting in society. She is currently a research associate at the University of Agder.  
Art can be the space where new imaginaries are born; the place where thinking through actions and intra-action with materials can circumvent "thoughtful logics" and lead through unknown paths to previously unthought of places. 
Anatomical Atlas, is an articulation of boundaries that structure the world we encounter and are part of. In this work, the body is seen as the carrier of these externalised limitations, definitions and abstractions. The installation in the old farmhouse was inspired by a conversation with Nina Guzman Toft as she showed us the space.  
"I heard, the farmhouse was once owned by a shipping magnet".  
Nina leant her back against the yellow wall and looked up at the stars as she said this. Ah those stars I thought. My mind pulled me back to my father who had left home at 14 to sail around the world. At first he hauled cargo, then oil from the gulf. He has sailed across the oceans that knows no boundaries or ownership.  
(Helen Eriksen 2022, extract from My Anatomical Atlas, short story) 
Joanna Chia-yu Lin Pumpkin patch, apple trees, warning signs, decaying explosive manufacturing plants, green-flooded lampposts, tower cranes, blue sky, white blinds and a black roof. 
"Behind the Frosted Glass" is a study of Lier that's composed by a collection of fragmented images taken in late-summer. The project captures the presence of a transition in regional and historical landscapes, which intertwined with personal memory in the search of belongingness. In combination with the photographic elements, a series of mirror installations will be present alongside in Gilhus Gård. They will act as extended windows, looking into the industrial field and witnessing the in-between, the now and then. 
Joanna Chia-yu Lin (b. 1995, Taiwan) is a visual artist based in Oslo. Her artistic practice collects evidences of the subtle changes in everyday moments, where the time passing becomes abstract, stretchy and fluid. She works with photography, painting, textile, installations, labours and time. 
Joanna holds a master's degree in medium and materials-based art from the Oslo National Academy of the Arts and a bachelor's degree in Fine Arts from the National Taiwan Normal University. 
Shahrzad Malekian  is an interdisciplinary artist working with socially engaged art and public art. Interaction and performativity in public space are significant aspects of her practice, which materializes in interactive installations, sculptures, moving images, performances and interventions in the public realm. 
Her work has been shown internationally in exhibitions and museums in Iran, Brazil, USA, Germany, Sweden, Norway, Finland, Portugal, Czech republic and London. Her video works have been selected for International Film Festival Rotterdam (2013), Gothenburg International Film Festival (2013), and Doclisboa(2019). She was a finalist for the MOP CAP 2015 prize and nominated for the Follow Fluxus – After Fluxus 2017 prize. 
Malekian holds a BFA in Sculpture from Art University of Tehran and an MFA in Art and Public Space from Oslo National Academy of Art, Norway. She lives and works in Oslo. 
"Closed Systems" is part of a series of experimental and performative visual narratives created to visualize the intertwined relationship between human and non-human forms in shaping space, objects, and memories in a landscape. 
Wei Ting Zeng is a composer, cellist, and pianist. She is a classical trained cellist/pianist, later on expended her footprints in contemporary music and improvised music. Collaborated with musicians such as Ayumi Tanaka, Jo Berger Myre, Kjetil Jerve, ca. Since 2020, she has been actively engaged her musical experience with visual art and social-engaged art, exhibitions includes "Vi Sees", "SeSiSå", "Genetic Salon", "Tistblu". The experience in visual art inspires her to exploring other possibilities in notation, which liberate performers from the constraints of notation and make them active participants in the creation of the music. 
"As Silent As Bombs" is a composition work which can be performed with any instrument(s) or forms of performance. It contains three movements: Overture, Bang, and Whiteness. The composition indicates the process a bomb explosion: The experience of bomb explosion can be described as traumas especially in early childhood experience. Those blurry memories of traumas have left us the sequela of losing senses, lacking connections with surroundings, and extreme insecurity. In this performance, it will be performed with solo cello by Wei Ting Zeng.
Valentina Martínez is a dance artist and researcher in artivism, esthetics, and temporary urbanism/placemaking. She is currently exploring methodologies of participation (medvirkning) and socially-engaged performativity in placemaking processes, namely within the field of dance and choreography. Welcoming acts is a work about gestures that bring someone into our space. The piece is composed by permutations of rituals and small acts that are meant to reduce the distance between a host and a guest. We create an atmosphere, an opportunity to gather, to meet in the same time and space. Every action carries a thought and an intention. How can simple gestures be meaningful? How do we define ourselves through welcoming actions?