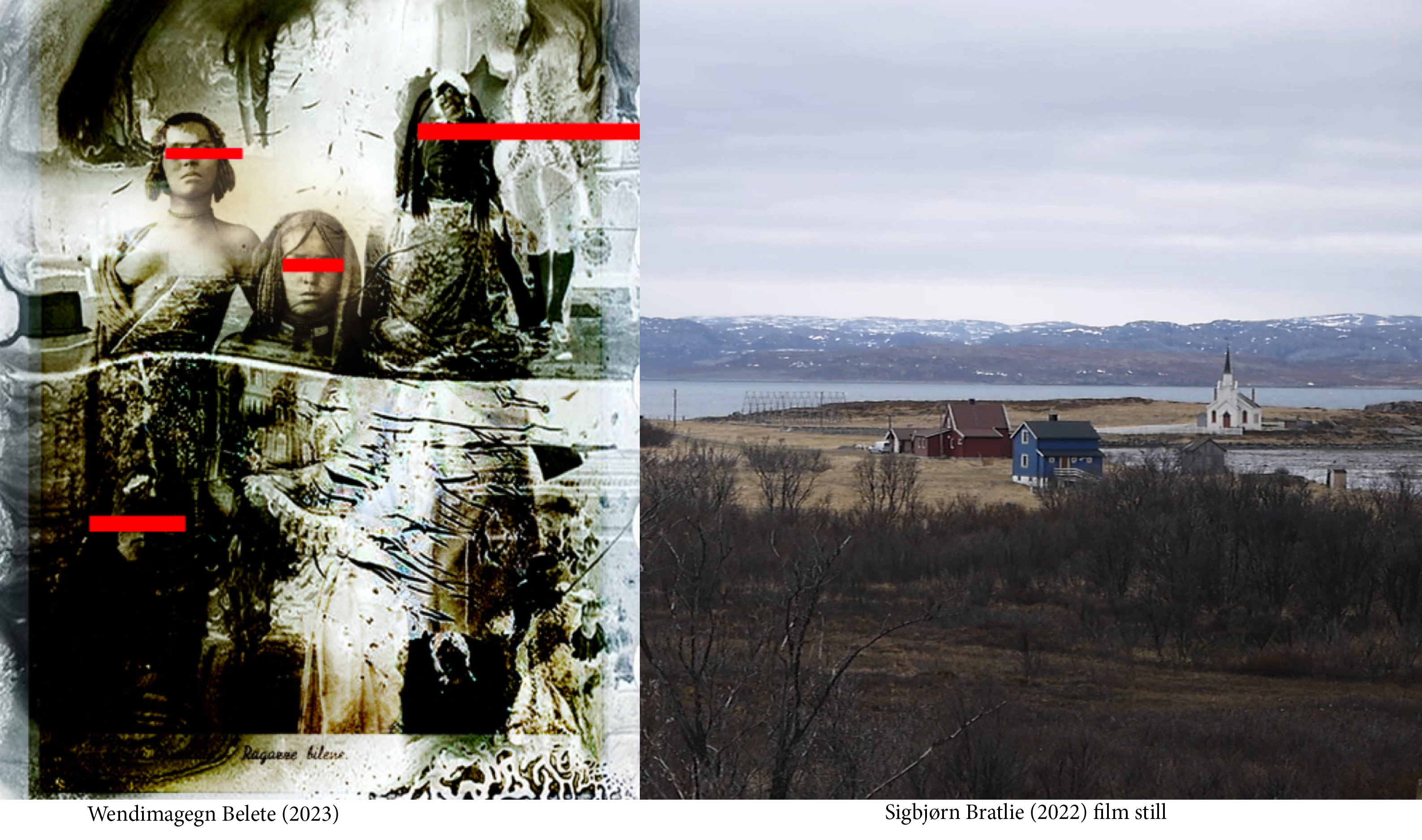 Safarkayga (2022) by Sigbjørn Bratlie. Photo based works "Who owns what" by Wendimagegn Belete
Welcome to the exhibition opening next Thursday 11th May 2023, at 18:00 at Tenthaus.
The exhibition will be on view the following dates from 13.00 to 17.00 hours:
May 12th – 14th June 2nd – 4th June 16th-18th or by appointment 
This exhibition is a constellation that brings up potential new conversations concerning how we construct notions of national identity such as Norwegian, Somalian or Ethiopian and the roles of art and language in those processes.

The art work presented by Wendimagegn Belete for this exhibition explores the themes of archive, history, memory, and identity. The artist's photo-based works on display are a continuation of his research, showcasing celluloid photographs taken from the colonial archive, mainly Italian postcards. The artist has experimented with the concept of decay, which old celluloid photographs tend to undergo, resulting in an aesthetically appealing effect that parallels the decay of power structures. The works on display also seek to question the ways in which the camera has been used as a weapon to perpetuate stereotypes against specific groups of people. The exhibition invites us to contemplate who and how we remember individuals and communities in history, and the role of archiving and documenting in shaping our understanding of the past.
As we look at this kind of archival photographs, we are invited to consider the misrepresentation and exploitation, including nudity, depicted in them. The images were commercialized and continue to be so, raising questions about ownership as many of the images were collected from western archival institutions. This parallel with Barbara Kruger's Most Famous Artworks <HOW OWNS WHAT> underscores the exhibition's overarching theme of challenging notions of power and identity.
The celluloid photographs exhibited here can be thought of as desires or memories, captured on a fragile and ephemeral medium that can deteriorate over time. The artist has intentionally chosen images that have undergone this natural phenomenon of decay, stripping them of their original intentions. These images serve as a reminder that like our own bodies, the celluloid medium is fragile and subject to the ravages of time. Yet, what is contained within is who we are – our thoughts, dreams, and memories – and these will be reprised as something new and more lasting.
The work invites you to contemplate and raise questions about the construction of social stereotypes, the perpetuation of systems of inclusion and exclusion in society, and our own memories and identities.
Sigbjørn Bratlie is showing a video entitled Safarkayga (2022). This "road movie" brings us into the multicultural history of Eastern Finnmark and Finnish Lapland. We see a 745-kilometre-long journey through this region as the video explores the different minorities, predominantly Kven and Sámi, that have historically inhabited the area. The story is seen and narrated from the artist's own Norwegian point of view. However, the language he speaks is one of his country's more recent minorities; the Somalis. The artist has become a Somali language learner to narrate this film. Bratlie´s fascinating road trip in the North of Norway brings up questions of territory and language when the narrator admits to feelings of being an outsider who cannot understand the local Sámi language dominating the national independence celebration. He is pushed outside the joyful conversation that he would typically be a naturalised part of.

Wendimagegn Belete (b.1986, Ethiopia) currently lives and works between Ethiopia and Norway. He completed his BA in Fine Arts at the AAU Alle School of Fine Arts and Design, ET in 2012. He then continued his studies with a MA in Contemporary Art at the Tromsø Academy of Contemporary Art and Creative Writing, Norway graduating in 2017. His artistic practice is greatly informed by narratives related to identity, memory, and history. He employs an encyclopedic range of information sourced from physical and digital archives, including ethnographic photographs and video, found objects, texts, maps, stories, and his own experiences and visual documentation.
Sigbjørn Bratlie (b. 1973, Norway) currrently lives and works between Poland and Norway. He works with video, performance, painting and installation. His artworks have a conceptual, analytical and quite often humoristic feel to them. There is also a hermeneutic approach to contemporary visual culture at the centre of his art projects: Often, they are produced in an attempt to create order and linguistic meaning in various cultural phenomena. Recently Bratlie´s video works have revolved around the theme of language, – or more specifically, – foreign languages.