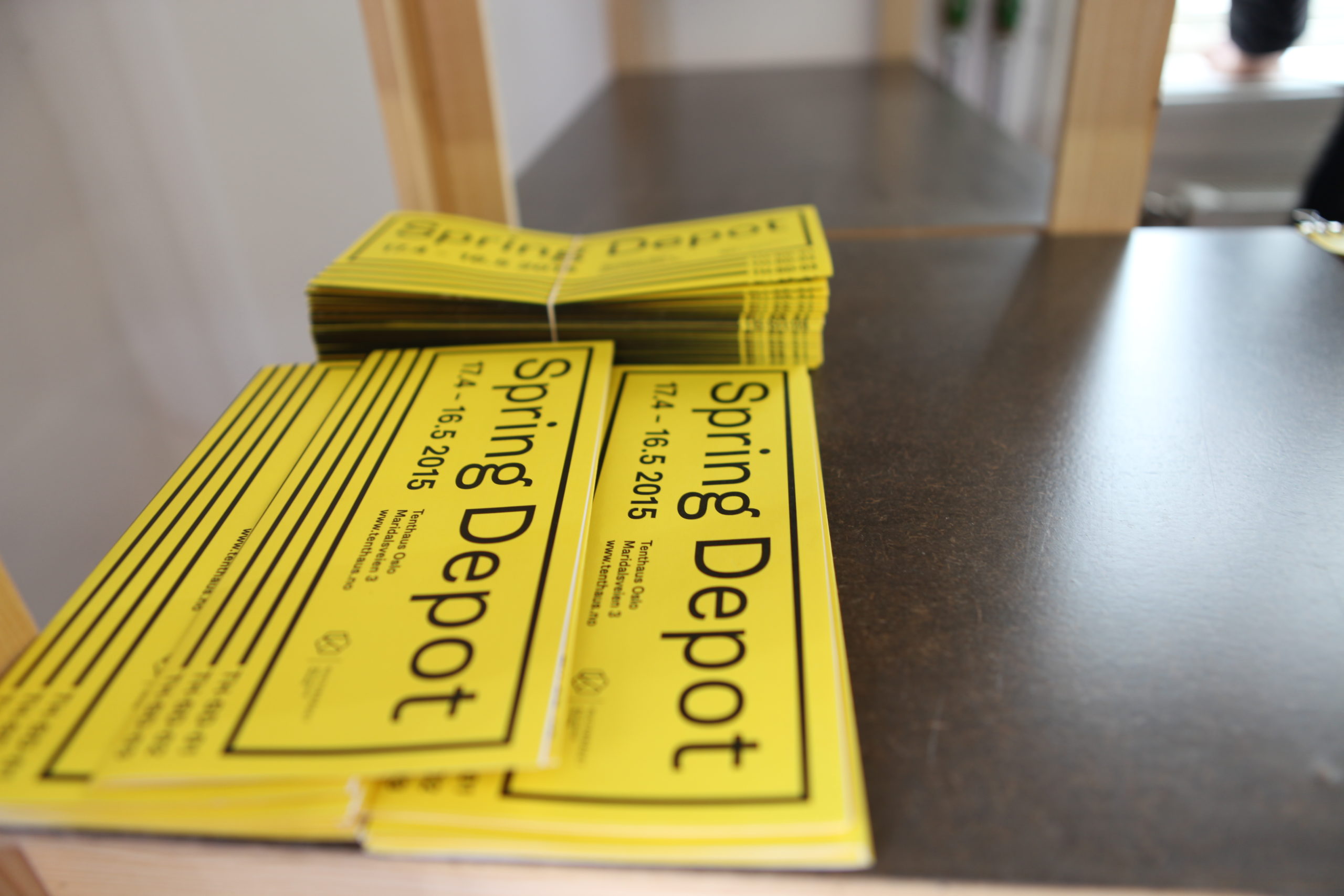 SPRING DEPOT CURATED BY RACHEL DAGNALL
As far as my meagre art collection goes. I have a couple of drawings from David Shrigley and one from the group of Norwegian artists calling themselves the Drawing Club. There are some limited edition prints which are framed and a video which I bought after falling in love with it, but didn't know what to do with and a couple of paintings that I really do not want. Then there are the books. Old and new, 20th Century Art theory, exhibition catalogues, art papers, dissertations everything around the production and processes of the contemporary art that I have encountered in my now middle aged life. Research, validation and evaluation. The cornerstones of contemporary art practice and curating. A personal library taking up the space of a small cellar.
The exhibition Spring Depot aims to empty the shelves so to speak and go back to the the root – the artworks and presents a selection of 30 Oslo based artists who are working within the sculptural sphere of installation art.
The nature of the beast, the shelving format could have determined the size of the installations. The limits of these constraints have (of course) been defied by Hanne Friis, Janne Kruse, Andreas Siqueland, Linn Ulvin and Kjell Varvin. Paintings made into objects by Ane Graff and Ingrid Lønningdal.
The Wunderkammer experience is accentuated with Greg Pope's custom Peep Show, a Hologram by Ignas Krunglevicius, a desert island disco by Aksel Høgenhaug, a mirror piece by Runa Sandnes and Vanessa Bairds nodding duck. The humour continues in new works by Johan Urban Bergqvist, Sara Christensen, Anna Daniell, Terje Nicolaisen and where Jon Gundersen's bronze cast of an alligator stands in contrast to Cassius Fadlabi's painted plastic aeroplane. Other treasures include a piece of Steinar Haga Kristensen's soon to be covered up fresco painting The Loneliness of the Index Finger (Part II) at Oslo Rådhus and a selection from Maria Sundby's The Rest in Pieces.
The works on show will also include previously unseen models and maquettes by Gisle Harr, Mattias Hârenstam and Mikkel Wettre. There are domestic objects recreated by Åsil Bøthun and transformed by Petrine Lillevold Vinje.
Lotte Konow Lund and Eline Mugaas contribute with handmade artist books and Marius Engh presents his archival research, Eschscholzia Californica. Siri Austeen has created a rythmic video and sound installation and Vanna Bowles' hand drawn Ivy drapes over her monochrome drawings, adorning the shelves of the Spring Depot.
RACHEL DAGNALL, an Oslo based artist, has curated and produced the exhibition Spring Depot for Tenthaus Oslo. The exhibition is developed around a framework of shelving units, originally an artwork by Stefan Schröder entitled Archive, my thoughts, your actions (2013) exhibited at the Vigelands Museum as part of the Norwegian Sculpture Biennial. These shelving units will now be installed at the artist run space Tenthaus, transforming the entire gallery into an archival storage depot.
Opening reception Friday 17th April 7 – 9 pm
17.4 – 16.5 2015
Open Thursday – Sunday 12 – 4 pm
Situated at Maridalsveien 3, Oslo
Curated by Rachel Dagnall