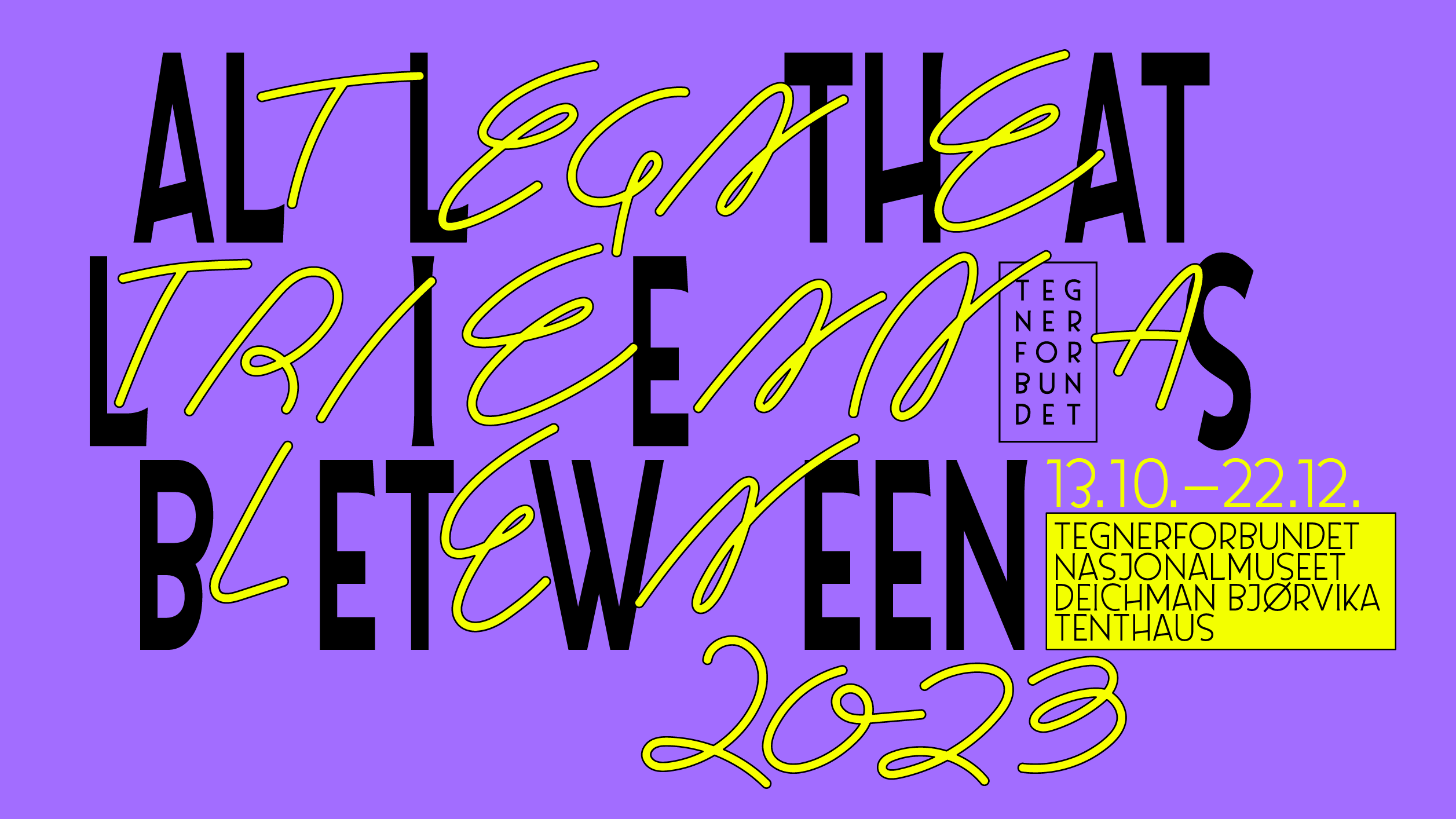 Tegnetriennalen 2023: All that Lies Between
Opening: 12.10.2023
The upcoming drawing-triennial 2023 is titled "All that Lies Between," organized and produced by Tegneforbundet, center for drawing, will explore the relationship between written words and drawn images, as well as the interplay between spoken and unspoken communication. The triennial will consist of various parallel projects that will examine and delve into this theme in their own unique ways. The Norwegian Drawing Center has invited several organizations with expertise in this area to participate in the 2023 triennial, including the National Museum, Deichman Bjørvika, and Tenthaus Art Collective (with its three venues). Deichman Bjørvika will showcase original artworks from "Kviskreboka," an artist book developed and published by the Norwegian Drawing Center specifically for the Drawing Triennial.
The curatorial group for the 2023 Drawing Triennial consists of Ottar Karlsen, Roddy Bell, and Hilde Lunde.
Visual identity: Ariane Spanier
‍The Triennial includes the following participants:
Mette Stausland, Fredrik Høyer, Idun Baltzersen, Terje Dragseth, Anna Sofie Mathiasen, Agnes Ravatn, Cato Løland, Janne Stigen Drangsholt, Sverre Malling, Sigbjørn Skåden, Damla Kilickiran, Jenny Hval, John Arne Sæterøy, Gulraiz Sharif, Bjørn Hegardt, Inger Wold Lund, Kurt Johannessen, Øyvind Berg, Kim Hiorthøy, Marthe A Andersen, Johan Urban Bergquist, Christina Bruland, Ouy Son Bui, Sissel Fredriksen, Aurora Passero, Terje Nicolaisen, Gabrielle Paré, Victor Guzman, Araiz Mesanza, Jan Groth, Adam Pendleton, Erik Werenskiold, Hanne Lydia Opøien Figenschou, Gelawesh Waledkhani, Wei Ting Zeng, Valentina Martinez, Trond Hugo Haugen, Torgeir Husevaag, Stefan Schröder, Stan D'Haene & Stach Szumski, Shahrzad Malekian, Pablo Helguera, Nikhil Vettukattil, Martin Kolsrud, Marie Cole, Maren Dagny Juell & Arman Arief Rachman, Lucía Aragón, Kirsty Kross, Joanna Chia-yu Lin, Jana Winderen, Jacky Jaan-Yuan Kuo, Ida Uvaas, Hermetic Shadows, Helen Eriksen, FUKT Magazine, Enrique Guadarrama Solis, Ebba Moi & Anna Carin Hedberg, Carlos A. Correia, Benedict Beldam, Belén Santillán.
TENTHAUS: BITACORA
For Tegnetriennalen 2023, Tenthaus reflects on its own point of departure, its course, and the currents encountered in between. Tenthaus uses Bitácora as a method of describing a journey charting time, space, and conditions. This is not only the charting of a journey through writing and drawing but also a description of a path to follow.
The Bitácora is a type of ship log, which relies on visual mapping and written reports, traditionally used in navigation. It also creates another world by providing access to the metaphysical dimension of the journey, as a tangible drift. In Bitácora, we have the opportunity to move forward and present our trajectory, alongside the artists we have been collaborating with since 2009. We commissioned Claudia La Rocco to explore Bitácora through writing, and invited our artists to respond to her text. We believe that this exhibition will allow us to understand Tenthaus' progress and interpret the direction we are heading in.
To ensure you don't miss out on the latest updates, captivating content, and exciting events, we invite you to stay connected with us. Simply follow this   link link to explore Tegneforbundet's website.
For real-time updates, engaging discussions, and a vibrant community, be sure to also join the Facebook page