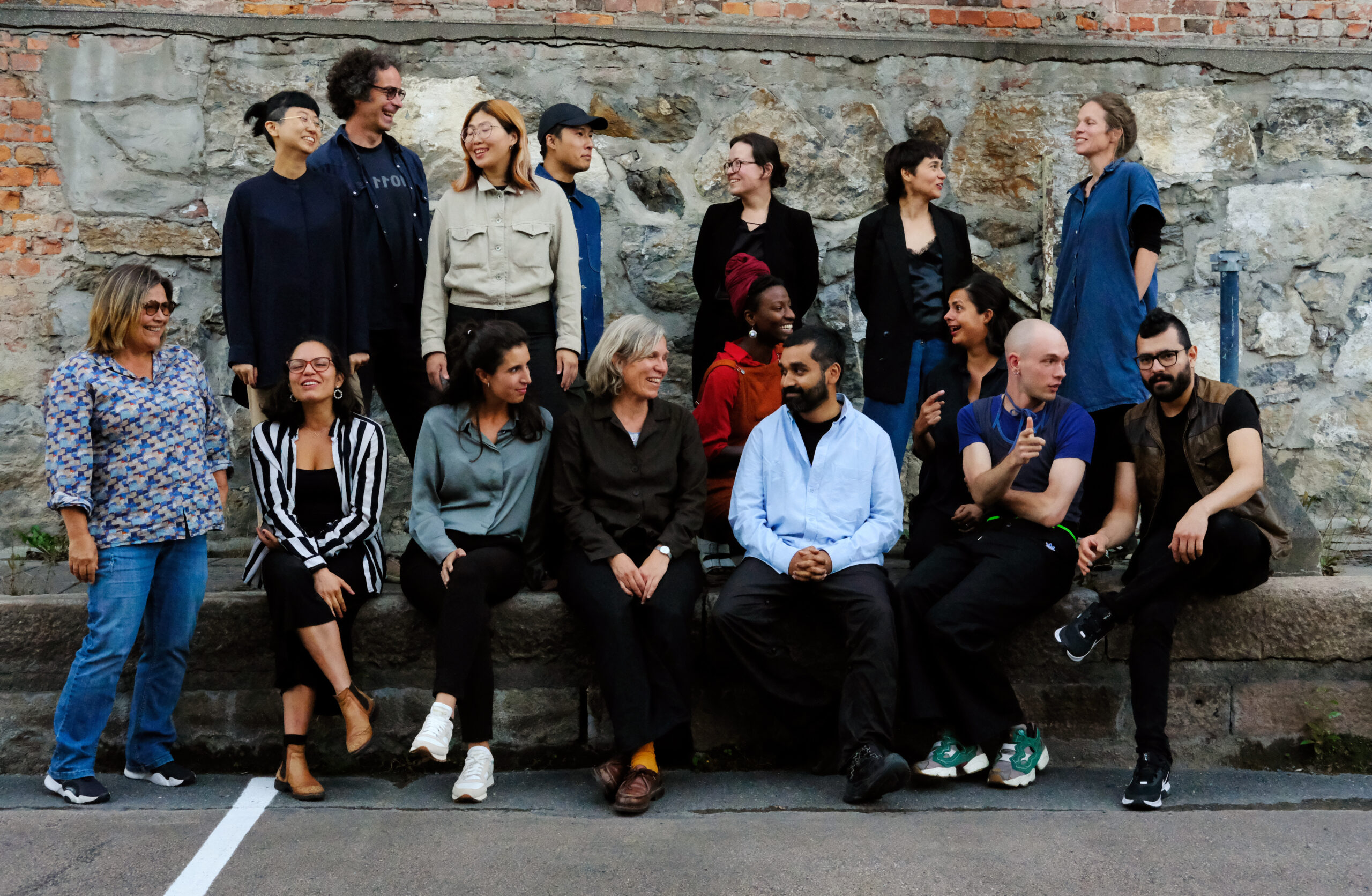 Together as to gather. Momentum 12.
10th June to 8th October.
for english see below
Kuratortekst av Tenthaus kunstkollektiv for MOMENTUM 12  
Redaktører: Billie McTernan og Bukola Oyebode

Samlingens poetikk: Together as to gather 
Innsamlingsprosessen som det refereres til i Together as to gather, er et komplekst samspill mellom tid, rom og omstendigheter. Det føles som en berg og dalbane med uventede skift og svinger svingninger, farten går opp, men også ned. Mandagsmøtene våre var kjernen i det kollektive samarbeidet: deling av rom, dype og trivielle samtaler, mat og kaffe. Det handlet om å være sammen, og det var forståelig nok etter de ekstreme forstyrrelsene i samværet som følge av covid-19-pandemien. På et eller annet tidspunkt endret oppgavene og omstendighetene våre seg med kurateringen av MOMENTUM 12. På sett og vis ble ting mer komplekse, og det krevde anstrengelser å motstå entropiens krefter.
I denne MOMENTUM-utgaven har vi derfor tatt i bruk en metode vi kaller gathering eller samling og en modell for polyfonisk medforfatterskap. Et polyfonisk rammeverk innebærer å produsere mer enn en uavhengig melodi samtidig i en og samme komposisjon. Det er i stor grad slik Tenthaus fungerer; hver enkelt praksis både resonerer og forsterker seg selv gjennom det kollektive arbeidet. Vi produserer og involverer mange temaer og kuratoriske ideer samtidig. På denne måten kan vi utforske et mylder av sammenfallende temaer og kunstneriske former som hver for seg gir resonans og mening. 
Denne praksisen med medforfatterskap utvider seg i hele kollektivets økosystem, både lokalt og internasjonalt, og inkluderer kunstnere, designere, redaktører, aviser, kunstnerdrevne gallerier, internasjonale biennaler og lokale skoler som deler ulike kunstprosjekter gjennom biennalen. Gjennom denne prosessen utforsker Together as to gather hva som intuitivt kommer ut av å samle mennesker, steder og tider. Først fokuserte vi på hva som inngår i selve biennalen, det vil si hva folk vil se og oppleve når de besøker Moss i løpet av fire måneder. Men etter hvert som vi begynte å kuratere, begynte de ulike begrepene om samling å vokse frem. 
Den typen samling vi søker i Together as to gather, må ikke forveksles med dagens inkluderingspraksis. Inkludering, slik det brukes nå, ser ut til å være en del av et paradigme for (ofte imperialistisk) ekspansjon – der en institusjon søker å absorbere og innlemme det den inkluderer. Det er en modell for uendelig vekst, økonomisk og på andre måter, for den dominerende kulturen. Denne samlingen – MOMENTUM 12 – er en midlertidig forsamling. Det er på sett og vis samværet i seg selv vi søker, ikke institusjonen eller biennalen. Den slutter så snart man forlater den, selv om man bærer med seg spor av opplevelsen. Å samle er verbet, og sammen er subjektet. Det er vi, sammen, som samler. Samvær betyr ikke enighet. Det betyr aksept, tillit og rom for å prøve og feile. Og for en improvisatør er det å mislykkes en ekte gullgruve..
I Marcel Broodthaers' installasjon Un Jardin d'Hiver (En vinterhage) på Veneziabiennalen i 1974, kommenterte kunstneren den belgiske kolonialismen og hvordan radikale konseptuelle praksiser var blitt kolonisert av museet, noe som førte til en ny institusjonalisme som allerede hadde gjenerobret den samfunnskritiske gesten og radikaliteten i readymades. Biennalen, som ble vist sammen med andre hvite, mannlige konseptkunstnere fra hans generasjon (Carl Andre, Daniel Buren, Richard Long), var et eksempel på den motsetningsfylte integreringen og sentreringen av stedsspesifikk, avobjektifisert og "avantgardistisk" kunst. I dag ser vi en nærmest eksponentiell vekst av biennaler og store, ikke-kommersielle internasjonale utstillinger etter globaliseringen. I 1974 var det færre enn 40 biennaler på verdensbasis. Nå oppgir Biennial Foundation at det finnes 270 slike arrangementer, og i realiteten er nok tallet høyere. Den kuratoriske strategien med nettverksbasert inkludering, der så mange motstridende praksiser som mulig absorberes, er nå kanskje status quo.
Når det gjelder begrepet kollektivitet, ser vi opp til avantgardekunstnerne, som forstod kollektivet som en kraftfull drivkraft for å skape, dele og utvikle ideer som kunne forandre verden rundt dem. De så på bevegelsene sine som mer betydningsfulle enn de individuelle verkene og innsatsen, men uten å fornekte dem. Hvert manifest er en mulighet til å minne oss om at kollektive erfaringer dypest sett er en utopi.  
Å samles er å investere i hverandre. 
Å samles er arbeid.  
Samlingsprosessen er rå.
Ideene bak Together as to gather begynte som en måte å samle kunstneriske praksiser som ga gjenklang hos oss, som gjennom et system av samlinger utviklet det seg utvekslinger og møter. Dette utviklet seg senere til å skape møtepunkter og stadig nye relasjoner som strekker seg utover biennalen, selv om utgangspunktet er samlingen i dette spesifikke øyeblikket. 



Et momentum.
Men det kreves mer enn å komme sammen for å få ting til å skje. Som Dipti Desai foreslår i artikkelen Artistic Activism in Dangerous Times, er det tre temaer som utkrystalliserer seg i en kunstaktivistisk praksis: det ene er lytting som en integrert del av kollektiv læring, det andre er forestillingen om "uvitenhet" som en sentral del av undervisning og læring og det tredje er drømmer som en aktiv og nødvendig del av utformingen av vår politiske forestillingsevne. Denne håpefulle pedagogikken, som er basert på vår evne til å forestille oss og virkeliggjøre alternative muligheter, er det rommet kunsten inntar, innehar og gir en plattform for hvordan medforfatterskap kan formes. Lytting, uvitenhet, avlæring og drømmer i møte med andre er en kjernepraksis som må bearbeides igjen og igjen.

Vi brukte ordet polyfonisk for første gang i forbindelse med en utstilling som kollektivet ble invitert til å kuratere for å formidle prosessen i forbindelse med vårt mobile gjestekunstneropphold P1 i Lier. Utstillingen, med tittelen Polyphonic Vision, var en lek med hierarkiene mellom lyd og bilde. Lier kommune ga oss hele utstillingslokalet, og vi så en mulighet til å artikulere kollektivet som et kreativt prosjekt og ikke bare som et tilretteleggings- og kuratorprosjekt. Vi hadde ikke tid til å lage et felles verk som kollektiv, men vi hadde alle arbeider som vi ønsket å vise fra våre praksiser. P1-kunstnerne Billie McTernan og Okhiogbe Omonblanks Omonhinmin, Sofie Rodin og Alejandra Aguilar Caballero viste arbeider knyttet til sine opphold. Dette førte til et stort mangfold av former og temaer: Weis musikkomposisjoner og partiturer for cello, Shahrzads biosfærer og to- og tredimensjonale kunstformer, Billies og Omonblanks' videoverk og Sofies portretter av deltakere fra den lokale skolen. Det var lett å forstå og se sammenhengene i utstillingen når man opplevde den som en helhet på stedet. Alt ga mening, men bare fordi vi ikke forsøkte å artikulere noe felles grunnlag for de ulike praksisene. Da ville det kanskje ha kollapset.
Kanskje er et felles verdigrunnlag og en felles forståelse av kunst ikke det vi egentlig er ute etter, men det potensialet som eksponeres i kuratorprosessen. Vi opplever ofte at vi må forsvare vår kunst og kuratoriske praksis i forhold til maktdynamikkene, det vil si mellom kunstner-kurator og deltakende kunstner. Men maktbegrepet er annerledes i et flatt hierarki. I den kollektive, kollaborative metoden vi bruker, er det individuelle handlingsrommet sentralt for at polyfonien skal fungere. Hvis du forblir taus, bidrar du faktisk ikke til den nye lyden vi forsøker å skape. Det er gjennom ansvarsfølelse at flerstemmigheten blir til. Det er ikke noe kor som støtter solosangeren – vi er sangen vi synger sammen. Det er en sang som kan utfordre ører som er vant til å lytte til spesifikke orkestreringer – som har sine egne kvaliteter.
I samlingens rike, der glemte ekko og stille hvisking blander seg vever et kollektiv som harmoniske stemmer i en stor symfoni et teppe av flerstemmig medforfatterskap. De blir voktere av neglisjerte fortellinger og trekker forsiktig ut fragmenter som tidens ubarmhjertige marsj har forkastet. Hver stemme, med sin unike klang, flettes sammen med de andre og skaper et harmonisk kor av glemte historier. I sin omfavnelse av det som er oversett og forkastet, avdekker samlerne det rike teppet av perspektiver og inviterer leserne inn i en dans av tolkninger der flere betydninger harmonerer og gir ekko i den kollektive fantasiens korridorer. Slik blåser de liv i det glemte og forvandler fragmentene til en flerstemt symfoni av gjenvunne stemmer som inviterer oss til å lytte oppmerksomt til fortidens usungne melodier.
Når du vender deg til musikken, begynner ideen om flerstemmighet å gi mening. Du vil oppdage at vår tilnærming har vært å jobbe med improvisasjonsteknikker som ofte brukes i liveopptredener. Vi finner gjenklang i koreografen Scott Smiths metode.
Si "ja, og" i stedet for "nei, men".
Observere, ta et valg, gå.
Øve på hvor du skal plassere deg i rommet i forhold til andre.
Øve på når du skal komme og gå.
Øve på tempo og rytme for å tilpasse deg gruppens modus eller kontrastere den.
Hvis vi kunne starte arbeidet med en utstilling av denne ambisiøse størrelsen på nytt, ville vi bedt om mer tid. Vi kan heller ikke legge skjul på at MOMENTUM-biennalen er underfinansiert, til tross for de høye ambisjonene. Derfor har vi brukt mye tid og energi på å lete etter finansieringsmuligheter.
Vi mener at denne måten å samles på er helt nødvendig for å møte vår tids utfordringer. Den viser et potensial for endring og etterlyser en ny sosial forestillingsverden. Selv om vi ser på MOMENTUM 12 som en anledning som kan skape grobunn for andre sammenkomster og sosial endring, foreslår vi ikke at det skal være en mal som kan gjenskapes i samme format. Spørsmålet er da: Hvordan kan vi skape ulike betingelser og miljøer for samvær og samtidig være nysgjerrige på endring?

English version:
Tenthaus Art Collective
MOMENTUM 12
Poetics of Gathering: Together as to gather
The gathering process remains a complex conjunction of time and space and circumstances. It feels like a rollercoaster ride, with unexpected shifts and turns, the speed goes up and it slows down too. Our Monday meetings were at the core of our collective collaboration: sharing spaces, deep and trivial conversations, food and coffee. It was about being together, and understandably so, after the extreme disruption to togetherness due to the COVID-19 pandemic. At some point, the tasks at hand transformed our circumstances and those of curating MOMENTUM 12. In a way, things gained complexity, and resisting the force of entropy took effort.  
Thus, for this MOMENTUM edition, we adopted a methodology we call 'gathering' and a model of polyphonic co-authorship. A polyphonic framework suggests producing more than one independent melody simultaneously in a single composition. To a great extent, this is how Tenthaus functions; each individual practice both resonates and amplifies itself through collective work. We produce and involve many themes and curatorial ideas at the same time. In this way, we can explore a myriad of concurrences; subjects and artistic forms, each carrying resonance and meaning. This practice of co-authorship expands throughout our collective's ecosystem, both locally and internationally, to include artists, designers, editors, newspapers, artist-run galleries, international biennali and local schools to share various art projects throughout the biennale. Through this process, Together as to gather explores what intuitively comes from gathering people, places and times. At first, we focused on what goes into the biennale itself. That is, what people would see and experience when they visit Moss over four months. But as we settled into curating, the different notions of gathering began to emerge.   
The kind of gathering we seek in Together as to gather is not to be confused with the current practice of inclusivity. Inclusion, as it is utilised now, seems to be part of that paradigm of (often imperial) expansion–where an institution seeks to absorb and incorporate what it includes. It's a model of infinite growth, economic and otherwise, for the dominant culture. This gathering–MOMENTUM 12– is a momentary assembly. It is, in a way, the togetherness. The thing we seek. It is not the institution or the biennale. It ends as soon as one leaves, even if one carries traces of the experience away. To gather is the verb and together is the subject. We, together, do the gathering. Togetherness doesn't mean agreement. It means acceptance, trust, and space to try and fail. And failure is, to an improviser, a real treasure.   
In Marcel Broodthaers's Un Jardin d'Hiver (A Winter Garden) installation at the Venice Biennial in 1974, the artist was commenting on Belgian colonialism and how radical conceptual practices had been colonised by the museum, leading to a new institutionalism which had already recuperated the gestures of social critique and the radicality of the readymade. Showing alongside other white male conceptual artists of his generation (Carl Andre, Daniel Buren, Richard Long), the Biennial epitomised the contradictory integration and centring of site-specific, de-objectified and 'avant-garde' art. Today, there is a near exponential growth of the biennale and large scale non-commercial international exhibitions after globalisation. In 1974 there were fewer than 40 biennali worldwide. Now, the Biennial Foundation lists 270 such events and the number in reality would be more. The curatorial strategy of networked inclusion, absorbing as many contradictory practices as possible, is now perhaps the status quo.  
Regarding the concept of collectivity, we look up to the artists of the avant-garde, who understood the collective as a powerful drive for creating, sharing and developing ideas that could transform the world around them. They saw their movements as more significant than their individual works or efforts, but without negating them. Every Manifesto is an opportunity to remember that, at its core, collective experience is a utopia.   
Gathering is investing in each other.  
Gathering is work.   
The process of gathering is raw.  
The ideas behind Together as to gather began as a means to collect artistic practices that resonated with us, but through a system of assembling, exchanges and encounters evolved. This later developed into creating meeting points, and ever unfolding relation-making, which goes beyond the biennale, even if the starting point is the gathering for this specific moment in time.   
A Momentum.   
But more than getting together is needed to get things to happen. As Dipti Desai suggests in the article Artistic Activism in Dangerous Times three themes are emerging  from an art-activist practice: one is listening as an integral component of collective learning; two is the notion of 'unknowing' as central to teaching and learning; and three, dreaming as an active and necessary part of shaping our political imagination. This hopeful pedagogy, grounded in our ability to imagine and make alternative possibilities real, is the space art occupies and holds, and gives a platform for how co-authorship can be shaped. Listening, unknowing or unlearning and dreaming in the encounter with others is a core practice which needs to be worked on again and again.   
We first used the word polyphonic for an exhibition that the collective was invited to curate to mediate the process of our mobile artist in school residency P1, in Lier, Norway. The exhibition, entitled Polyphonic Vision, was a play on the hierarchies of sound and vision. Lier Municipality gave us the whole exhibition floor and we saw an opportunity to articulate the collective as a creative endeavour and not solely as a facilitating and curatorial project. We did not have the time to make a collaborative work as a collective, but we all had work that we wanted to show from our practices, and P1 residents Billie McTernan and Okhiogbe Omonblanks Omonhinmin, Sofie Rodin and Alejandra Aguilar Caballero showed works related to their residencies. This led to super diverse forms and themes: Wei's music compositions and her scores for cello, Shahrzad's biospheres and two and three-dimensional art forms, Billie and Omonblanks's video piece and Sofie's portraits of participants from the local school. It was easy to understand and see the connecting threads in the exhibition when experienced on-site as one. It all made sense, but only because we did not try to articulate any common ground of the diverse practices. Then, it may have collapsed.   
Perhaps a common set of values and understanding of art is not what we actually seek, but the potential that is exposed in the curatorial process. We often find ourselves having to defend our art and curatorial practices in relation to power dynamics, that is, between artist-curator and participant artist. But the idea of power is different in a flat hierarchy. The collective, collaborative method we are using sees individual agency as central to the functioning of the polyphony. If you remain silent, then you are, in fact, not contributing to the new sound we are attempting to make. It is through a sense of responsibility that a polyphony is born. There is no choir backing the solo singer–we are the song we sing together. It is a song that might challenge ears used to listening to specific orchestrations – but it has its emergent qualities.  
In the realm of gathering, where forgotten echoes and silent whispers mingle, a collective, like harmonic voices in a grand symphony, weave a tapestry of polyphonic co-authorship. They become guardians of neglected narratives, delicately extracting fragments discarded by the relentless march of time. Each voice, echoing with its unique timbre, intertwines with others creating a harmonious chorus of forgotten stories. In their embrace of the neglected and dismissed, the gleaners unveil the rich tapestry of perspectives, inviting readers into a dance of interpretations in which multiple meanings harmonise and echo through the corridors of the collective imagination. Thus, the gleaners breathe life into the forgotten, transforming the fragments into a polyphonic symphony of reclaimed voices inviting us to listen attentively to the unsung melodies of the past.  
When you turn to music, the idea of polyphony begins to make sense. You will find that our approach has been to work with improvisation techniques often used in live performances. We find resonance in the method of the choreographer Scott Smith.  
Saying 'yes, and' rather than 'no, but'.
Observe, make a choice, go.
Practising where to place yourself in space in relation to everyone.
Practising when to enter and leave.
Practising tempo and rhythm in order to tune into or contrast the group mode.
If we could start the process of working on an exhibition of this ambitious scale all over again, we would ask for more time. Also, we can't hide the fact that the MOMENTUM biennale is underfunded, despite its noble ambitions. So, much time and energy has been spent chasing funding possibilities and applications.  
We believe this practice of gathering is very needed to face the challenges of our time. It shows a potential for change and calls for a new social imaginary. Though we think of MOMENTUM 12 as an occasion that can foster other gatherings and bring social change, we do not propose it as a template model to be recreated in the same format. The question then is: how do we create different conditions and environments of togetherness and still remain curious about change?
Media enquiries:
Adriana Calderon, Communications Advisor, Tenthaus adry@tenthaus.no
Amanda Kelly, Pickles PR, amanda@picklespr.com, +34 685 875 996