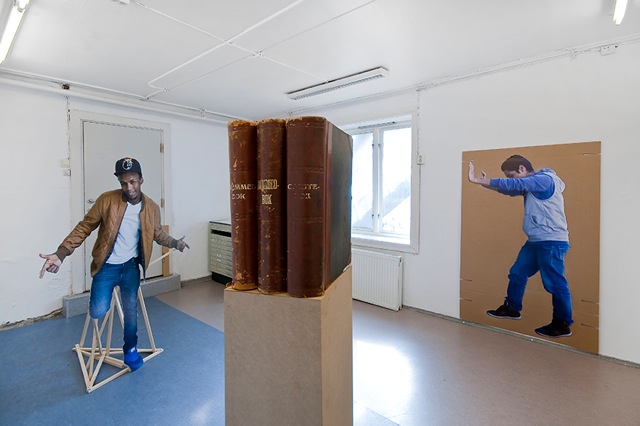 TRANSIT
GERMAIN NGOMA AND HELEN ERIKSEN
Helen Eriksen and Germain Ngoma have collaborated on a site-specific installation in three exhibition rooms at Tenthaus Oslo. Workshops and dialogs with participants at Sofienberg school have taken place over a three month period and have been instrumental in the development of the exhibition.
Their work is based on the students´ own photographic analysis of the theme of transit during workshops at Sofienberg school. The development of the project has been focused on the concept of transit situation – movement between one place and another – where are we now and how did we get there?
Eriksen and Ngoma view the school as a place of transition where students are being prepared for life beyond the school gates. The participants are moving into the final stages of their formal education and are focused on their own after-life.
Eriksen and Ngoma work within traditions of sculpture and photography in relation to the space that the work occupies. The installations presented at Tenthaus include found materials, context relevant photography, that contains wide ranging references to their participants role during their wait for the after-life.
TRANSIT with Eriksen and Ngoma is the first in a series of three exhibitions in which the initiators of Tenthaus Oslo collaborate with colleagues creating new works for the Tenthaus Oslo project space.
HELEN ERIKSEN is a visual artist and public art consultant. She has recently been selected to deliver a proposal for a memorial park in Trondheim City Council commemorating the events of 22 July 2011.
GERMAIN NGOMA is a visual artist and teacher at the National Academy of Visual Arts in Oslo. He has a wide ranging practice and has exhibited widely in Europe and Zambia.
Opening reception Thursday 21th August 7 – 9 pm
21.8 – 7.9 2014
Open Friday / Saturday / Sunday 12 – 4 pm