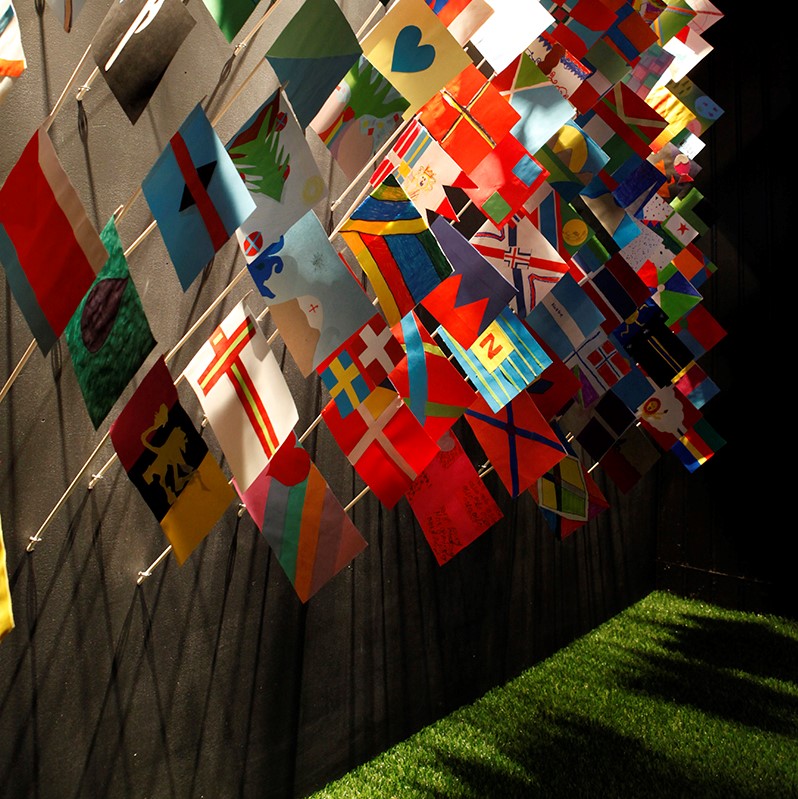 EXPLORATIONS IN THE NORWEGIAN FLAG
WITH antipodes café
An urban intervention, several workshops, a debate, a website and an exhibition at Tenthaus Oslo are the basis of this project of Utforsking av Norges flagg (Explorations in the Norwegian flag).
The first flag related to this land dates back to the monarch periods of the XIV century. Since then, different flags saw the sky in a process which carried out several debates, publications and proposals, including a green and grey one promoted by Christian Frederik in 1814, just a few months before the inclusion of an article expressing that Norway should have its own flag determined by law. The flag was selected in 1821, but its complete adoption in land and all seas wasn't until the beginning of the next century, in which it was also banned during the German occupation of Norway. After those years, the use of the flag has grown exponentially as well as immigration. According to SSB, last year more than 10% of the total population is currently member of religious and life stance communities outside the Church of Norway.
As flags, people and lands never stand still, and thus not history.
Artist-run centre co-directed by the Uruguayan artist and designer Felipe Ridao (1978) and the Norwegian urban planner Tuva Langfeldt (1985). antipodes café was recently selected by Kulturetaten i Oslo (Agency for Cultural Affairs, City of Oslo) as a temporary art project to be developed in Oslo.
EXHIBITION
Opening 30.4.2014
2.5 – 25.5.2014
PUBLIC OUTDOOR INTERVENTION
Opening 17.5
12:00 – ELDORADO
14.5 – 31.5.2014
Torggata, between Pløens gate and Lineaaes gate