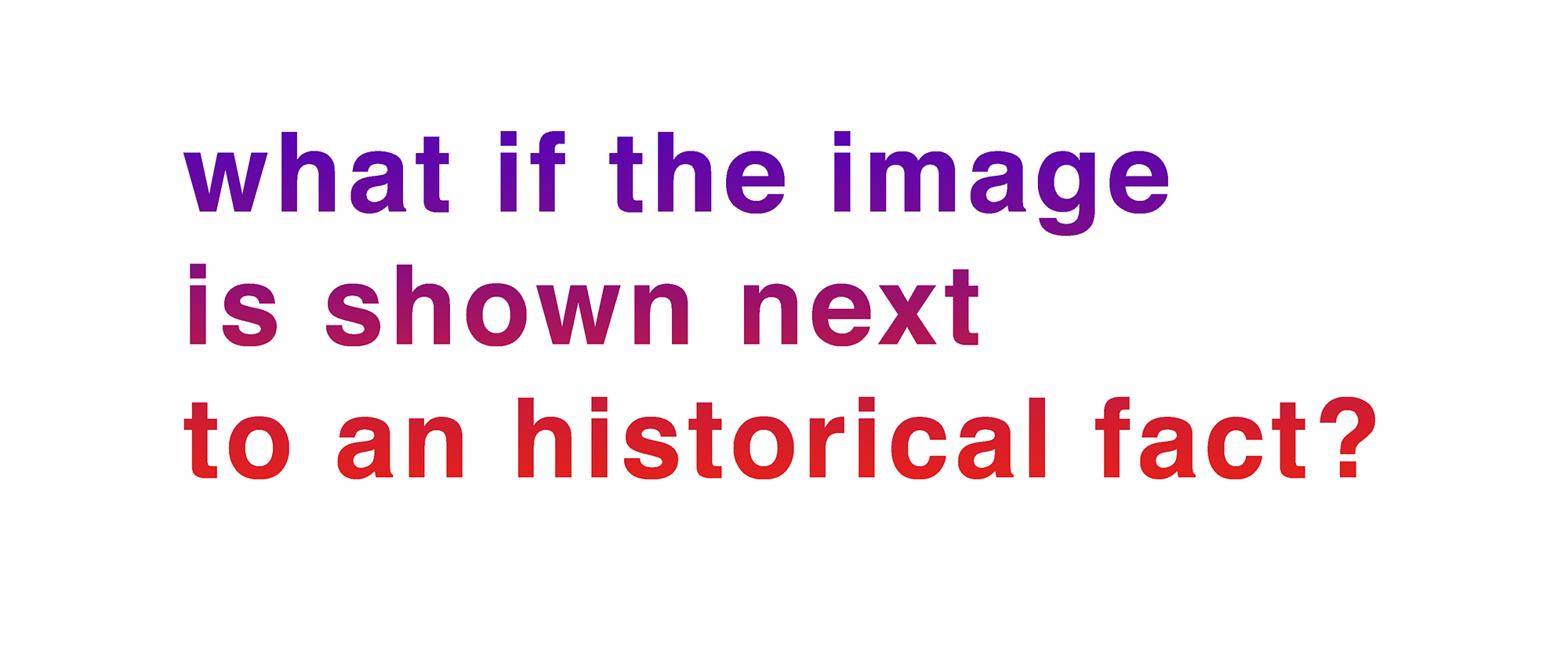 What if the image is shown next to an historical fact?
What if the image is shown next to an historical fact? questions the way that we interpret history through media, as well as our embodied understanding of that history; our situated experience within the now.It draws on Andrea Phillips, art researcher, thoughts on artist practice and asks: where do we stand if we situate our physical as well as mental bodies in this place amongst these images and artefacts? Can we go beyond an intellectual understanding of the questions raised within the exhibition space? "Maintain the role of the artist who, only ever collaboratively, poses the question: what if we placed this image next to this historical fact? What if we went there and learned what those people do and think about it in our terms? In other words, clarify the role of the artist outside of her own privatization, her own property-making." A. Phillips (2018)

AYATGALI TULEUBEK
Great Things are Done when Men and Mountains Meet (2014) and Declarations (2014)
Take terrain/a piece of land as a base and explore the symbolic and ideological layering by the structures of the state. Unlike in the case of familier map representations, terrain does not appear to the naked eye with a load of political designations of state borders and ideological luggage. This buildup is a result of a historical process and tensions associated with a sense of human presence, longing and belonging.

FADLABI
You are here (2019)
Questions our ability to understand our own and others´position in the world we understand, through concepts such as unfolding history, politics and morals. Where am I now? and How do I make sense of the information that I am continually bombarded with?

SASKIA HOLMKVIST/ELLEN NYMAN/CORINA OPREA
Sicherheit (Security) (2016/17)
The video installation Sicherheit (22 min) stresses the construction of colonial modernity in the Swedish imaginary. Sweden is one of the world's largest weapon exporters per capita, while at the same time promoting itself as a peace-making nation worldwide and claiming global neutrality. Sicherheit points to the Swedish relationship to war and weapon industry by examining how it is expressed on an individual level. The work also links western security with paths of migration and tests history in terms of the present. It links people to important sites of arms production such as Karlskoga, Luleå and Göteborg. More info at KHIO.

AYATGULI TULEUBEK (born in Kazakhstan) is an artist based in Oslo. His recent group shows include Glee, Shiryaevo Biennial, Russia; Oslo Museum of Contemporary Art at Kunsthall Oslo; Internal storage – Not Enough Space? in Garage Museum of Contemporary Art, Moscow and Participation Effect at Stieglitz Museum, Saint Petersburg. He had solo shows at Akershus Kunstsenter, Studio 17, Stavanger and NoPlace, Oslo. In 2014 Tuleubek graduated from The Academy of Fine Art/Oslo National Academy of the Arts.

FADLABI grew up and studied in Khartoum, Sudan. He now lives in Oslo where he studied for his MA in visual arts. In 2016, he and Karin Erixon initiated Khartoum Contemporary Art Center.

SASKIA HOLMKVIST lives and works in Stockholm, Sweden and Oslo, Norway. She is an artist and Professor at KHiO. Holmkvist employs performance, orality, moving image and improvisation to explore questions of agency and professionalized language and translation. In the process strategies of the documentary are retooled with performative interaction to focus on verbal speculation. Her most recent works include; Procession Action Tour, a perfromative city tour for The Riga Biennale 2018, Back Translation a film and installation on the text communicating Procession Action Tour.

ELLEN NYMAN lives and works in Stockholm, Sweden. She is an actor, director and visual artist. Her research and practice bears an interdisciplinary focus on performativity and blackness within performing and visual art. Recent work and collaborations include: Black revolutionaries don't fall from the moon (2017, Stockholm) a play influenced by the biography of Assata Shakur, and the video works Sicherheit (2017) shown alongside with Danish Election (2004) with Corina Oprea and Saskia Holmkvist and featured at GIBCA Gothenburg Biennial, 2017. Nyman is currently a Ph.D. candidate at Stockholm University of the Arts and at the moment plays part of playwright Tracy Letts, Mary Page Marlowe at the Royal Dramatic Theatre, Sweden.

CORINA OPERA is a Stockholm-based curator and researcher in the fields of visual and performing arts. She is Managing Editor of internationaleonline and former Artistic Director at Konsthall C in Stockholm. She holds a PhD from University of Loughborough-UK, with the thesis The End of the Curator – on curatorial acts as collective production of knowledge.
Quote from Andrea Phillips publication Forgetting the Public, in Public Enquiries/ PARK LEK and the Scandinavian Social Turn – Editors Giorgiana Zachia, Mick Wilson, Helena Selde, Blackdog publishing London, 2018
Opening Thursday, 7 February, 7 – 10pm
Exhibition 7 February – 3 March 2019
Opening hours Fri – Sun 1 – 5pm and by appointment
Artist talk Sunday 24 February 7pm at Khartoum with the artists.
All images: Øystein Thorvaldsen