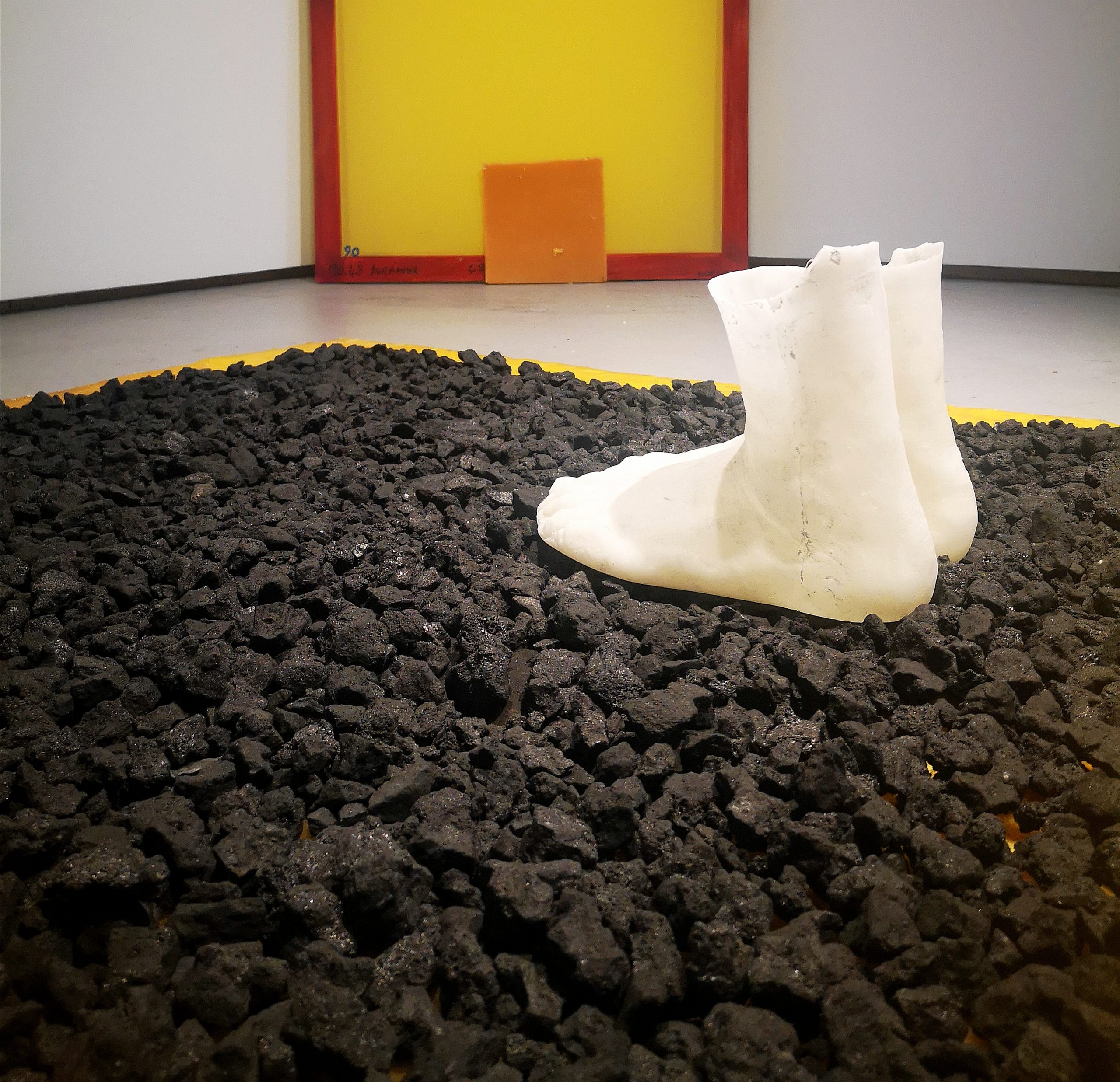 GERMAIN NGOMA & DREW SNYDER – TENTHAUS TAKEOVER
On the occasion of Germain Ngoma's on-going residency, Drew checks in with the following note:
"The Tenthaus HQ at Maridalsveien 3 in Oslo has a life-giving feel that keeps the making and showing of art centered on, well, life; on people, eating, talking, hanging out, experimenting, listening to music, watching the kids. I've been meeting up here with artist Germain Ngoma to discuss his work and his upcoming solo-exhibition which will take place in the gallery in September 2021 and which I'm invited to curate somehow. The Tenthaus team has made the space available to Germain now for the months of September and October (2020) to do whatever he would like, and when my son and I come in one day in late September we see experiments have already started, with large square mats of thick yellow wax, buckets of coal, molds of feet, large silkscreen frames, and other objects starting to fill up the gallery's back rooms. It is exciting to wonder what will become of these things, but for now that also feels somehow less important than the fact that they are there, that a process has begun. 
Germain dropboxes me around a hundred images representing some of his work from over the last thirty years. I print them out and bring them into the gallery one afternoon. We talk for some hours about the large truck tires he split open and reconstructed in the early 1980s, the Grand Theft Auto billboard he found and used in the large sculpture Gangsters Paradise in 2006, about negative space, about industrial packaging, about the marks skateboarders make on walls, about Oslo's central river Akerselva and how it looks after a lot of rain, about dead pianos, about mixing graphite with epoxy, about Naum Gabo, about speakers that don't make any sound, about making bronze casting test rods into artworks, about the posture of an abstract sculpture. I think about how nice it is to have these conversations sitting in the gallery where we will make an exhibition a year from now; that the artist is given access so far in advance to play around and see how the space feels. While I don't think any of us know quite where it will all go, I'm happy to report that a process has begun within Tenthaus's generous walls."