EPISODE 27
Climata Reports 2: Walk With Us
Broadcast 24/11/2020

Tuning In, Sounding out: Climata Reports
SESSION 2. WALK WITH US
Tuning in, Sounding out is a two part radio report exploring interrelationships between sound and ecology by the residents of Climata, the seventeenth residency organised by PRAKSIS – an Oslo based arts and culture catalyst. The residency brings together: Siri Austeen (NO), Sarah Kazmi (PK), Margrethe Iren Pettersen (NO), Lasse-Marc Riek (DE), Elly Stormer Vadseth (NO), Gustavo Valdivia (PE), Geraldine Vanspauwen (BE) and Maria Wang Kvalheim (NO).
For session 2, Walk With Us,the residents have extended invitations to others to send them soundwalks to which they will respond with their own inspirations and interpretations through sound, music, and voice.
With soundwalks by Elin Már Øyen Vister (Norway), Maan Methven (Belgium), Hanna Loewenthal (South Africa), Eisuke Yanakisawa (Japan), John Luna (Norway) and the Climata Residents.
Some information about our guests and walking sites:
Elin Már Øyen Vister is a sound artist working with listening as an artistic practice. She enjoys creating sound installations, performances, experimental music, organic sculptures, sensory walks beside co-running Røst Artist In Residence. Elin recorded her soundwalk in Røst, the most western part of Lofoten Archipelago, above the arctic circle, in Sapmi, Noway.
Margrethe Iren Pettersen added sounds from Alna River in Oslo.
Maan Methven is a filmmaker based in Brussels, studying audiovisual arts at the School of Arts in Ghent. Whether it is word, image or sound she is using, there is always the desire to retrieve tactility, physicality, the visceral. She recorded sounds in Lyssaraia, Peloponnesos and Poros, Greece + Slatina, Bosnia and Herzegovina.
Geraldine Vanspauwen added sounds.
Hanna Loewenthal is a socially engaged artist based. She considers her core interest, work and research as a lens which brings unlooked at, and unnoticed moments of human interaction into focus; exploring meeting points between person & place as performance. Her focus is dance based practice. Hanna recorded her Soundwalk in Vermakelijkheid, South Africa.
Siri Austeen added a sonic response.
Eisuke Yanakisawa is an ethnographer, field recordist, and filmmaker based in Kyoto. He is especially interested in listening to and recording the tone and resonance of particular places, as well as exploring their sounds from cultural, ecological, geographical, acoustic, and historical perspectives. Eisuke recorded his soundwalk in Shinpukuji Temple located in Kameoka, Kyoto, Japan.
Lasse Marc Riek added sounds.
Elly Stormer Vadseth recorded a sound movement in Nærsnes, Inner Oslo Fjord, Norway.Working with the sensate body of gelatinous lifeforms she attempts to (re)member sensemaking and hydrological connections between her own tissue and that of other watery organisms. She travels through the sounds of water, thinking through survival choreographers of cyanea Capillata and Ctenophore drifters. Embodied deep time and contemporary water intelligence and rhythms. Constructed boundaries become less clear, disappear. 
Lasse-Marc Riek recorded a soundwalk in the Astra Park, Sibiu, Romania.
Gustavo Valdivia recorded friends and anonymous street protesters in Lima, Peru. This "soundwalk" was recorded during the protests in Lima after Peruvian interim President Manuel Merino took power.
John Luna is an Oslo based architect, His soundwalk has been recorded in Bali, Beijing, Stockholm, Copenhagen, Oslo, Helsinki. Move at a regular pace by lifting and setting down each foot in turn, never having both feet off the ground at once. Guide, accompany, or escort (someone) on foot, a route recommended or marked out for recreational walking, an act of travelling or an outing on foot 
Sarah Kazmi added sounds
Lasse-Marc Riek recorded Electromagnetic Fields in Frankfurt am Main, Germany
At the end of this weeks episode, we also include part of Gruenrekorder's mix for the Wire, full details and stream here:
https://www.thewire.co.uk/audio/tracks/stream-a-mix-by-the-gruenrekorder-label
About Climata
Climata­ – Capturing Change at a time of Ecological Crisis explores acoustic ecology, bio-acoustics and soundscapes. Itis developed by PRAKSIS together with Lasse-Marc Riek and the Goethe Institut. It includes collaborations with the Norsk Teknisk Museum (The National Museum of Technology) and NOTAM (The Norwegian Centre for Technology in Music and Arts).
Instead of meeting up in Oslo in May, the residents found themselves working together within the limitations imposed by lockdown: meeting remotely for collective working sessions, exchanging scores and letters, joining events and listening sessions, and sharing meals, weather reports and informal chat within and outside of the group. Within their community, practices and perspectives span across sound, video, installation, performance, scenography, poetry, anthropology, art history, and philosophy. Together, they have been addressing the following questions: What can sound tell us about our future and how the world is changing? What impact do human-generated soundscapes have on biodiversity and climate? And, in what ways can ecological change be represented to instigate meaningful change?
As an extension of the Climata collaborations, a digital hub is currently being made to provide an indivisible common space for sound, ecology and artistic exchange. It will be available to you in Spring next year!
About PRAKSIS
PRAKSIS is a not-for-profit organisation fostering creative practice and knowledge production through collective activity and the exchange of ideas, skills and information. PRAKSIS seeks to establish dialogue between artists, thinkers and organisations locally and internationally, at all career stages, and across diverse cultures and disciplines. You can find out more about the Climata residency at www.praksisoslo.org.
About Goethe Insitut
The Goethe Institut is the Federal Republic of Germany's national cultural institute. Operating globally, it promotes knowledge of German language and culture in its diverse forms, and facilitates international cultural cooperation.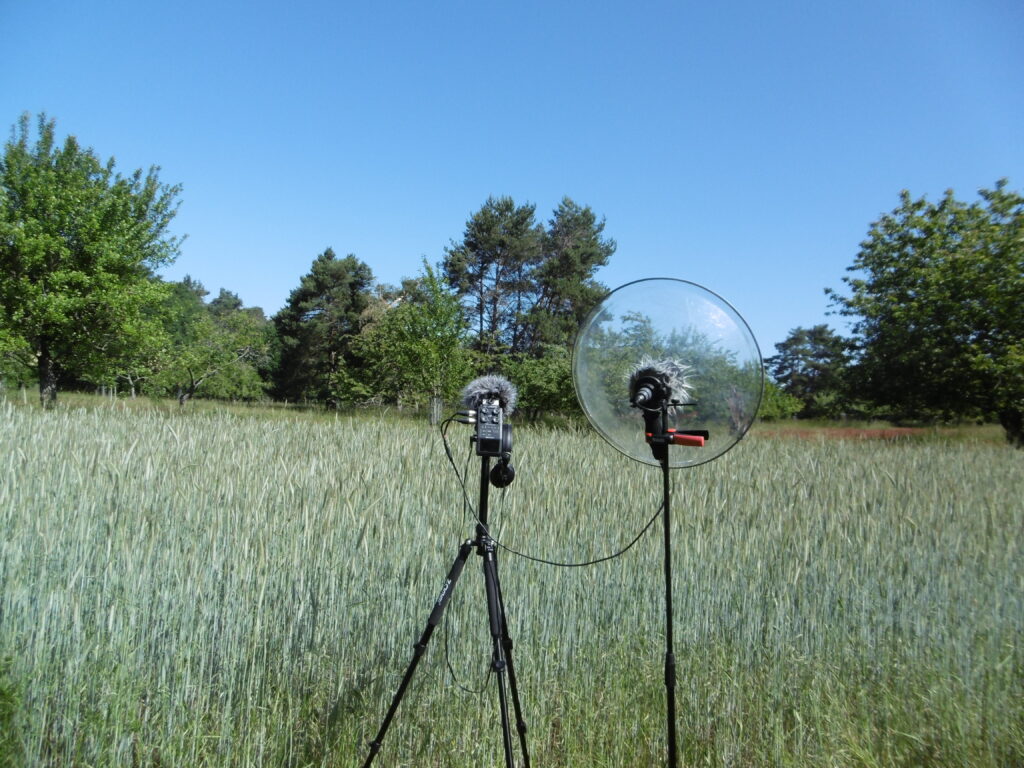 Siri Austeen (NO) is concerned with the relationship between sound, place and identity, working at the intersection of audio and visual art. Her work focuses on the impact various listening strategies have on our reception of reality and the personal experience of an investigative and sensory self. Relations between individual, collective and ecological structures often form an underlying focus in her work. Austeen's artistic practice is based on field recordings, site-specific installations, participatory projects, musical productions, text, performance and art in public space. Recently two sound pieces; Ears of the Field at The Falstad Museum, memorial and human rights center – and South North Sound Exchange at Sørumsand Highschool was permanently installed. Siri Austeen received her BA at Trondheim Academy of Fine art 1985.
www.austeen.no       
Sarah Kazmi (PK) is an interdisciplinary artist, writer and researcher. Through the lens of food as an artistic medium, she uses anthropological and participatory action research (PAR) to disseminate her practice, her double life between occupations of two, bartender/artist; investigating socio- political change within personal and community-based rituals. Her practice incorporates texts, audio, live readings, installations and image-based works to explore circulation processes of food as strategy for communication and knowledge production, its significance in our everyday life, beyond a consumption culture. Her most recent and ongoing project The Abandoned Mansions of Pakistan is looking at migration histories, desires, and lived realities of the Pakistani diaspora through food, architecture, and public culture. Kazmi has recently graduated with an MFA in Art and Public Space at Oslo National Academy of the Arts. She has also been selected as a fellow at RAW Académie Session 8 entitled Tour de Table in Dakar, Senegal in 2021. And is a member of the editorial board for HUMAN Documentary Film Festival 2021. She lives and works between Oslo and Karachi.
Gustavo Valdivia (PE) For almost a decade anthropologist Gustavo Valdivia has been ethnographically exploring the worlds that are emerging in the high Andes of Peru as the Anthropocene unfolds. His work is principally based in the Quelccaya, the largest tropical glacier on the planet, and articulates an eclectic body of theory, methods, and practices to provide an ethnographically grounded account of those significative moments in which Nature challenges human comprehension and control. This project, which he started as a Ph.D. student at the Anthropology Department at The Johns Hopkins University, has led him to carry out long-term fieldwork among indigenous alpaca herders, collaborate as a field assistant in 5 scientific expeditions to obtain ice cores from the Quelccaya's summit, work as a field producer for the documentary BBC series Frozen Planet, and participate as a chapter scientist in the Intergovernmental Panel on Climate Change's (IPCC) Sixth Assessment Report (AR6). In 2014, together with Tomás Tello –an experimental musician living in Portugal— he founded the Sonic Melting collective to start producing a set of field recordings of the ice of the Quelccaya as it melts. These recordings offer a sonic narration of Valdivia's encounter with the Quelccaya that seeks to present an alternative approach to the complexity of the Anthropocene: namely, one which is not limited by visuality. His work on sound includes collaborations with various sound artists including Stuart Hyatt, Kaitlyn Aurelia Smith, Gazelle Twin, and Mary Lattimore, and has been featured in Motherboard – Vice, The Wire Magazine, GlacierHub, and other media.
Margrethe Iren Pettersen (NO) is a florist, has a BA from the Academy of Contemporary art in Tromsø and a MFA from the Art and Public Space program from Oslo National Academy of the Arts. In her practice, she often work site specific by investigating the ecosystems and their complexities. By drawing attention to the characteristics and coexisting life of plants and organisms of different places, she aim to challenge the modern perception that divides culture and nature. Her Sami roots and the oral tradition of knowledge production in the north, is themes she brought into her work and research lately. 
Lasse-Marc Riek (DE) uses field recording as a means to capture and explore acoustic ecology, bio-acoustics and soundscapes. Since 1997, he has operated internationally, staging exhibitions and concerts, releasing recordings, and delivering lectures and workshops. Diverse venues have hosted his performances: galleries, art museums, churches and universities. His work has featured on public media, including public radio channels. He has received scholarships and participated in artist-in-residence programs in Europe, the Middle East and Africa. He is co-founder of the label Gruenrekorder, which since 2001 has concentrated on soundscapes, field recordings and electro-acoustic compositions and works in these contexts with artists and scientists on an international level. More information at: www.lasse-marc-riek.de
Elly s Vadseth (NO/ USA)  an artist working with embodied research methods and technology. In her work she imagines, extends and animate connections within human and more than human micro and macro ecology(s). Vadseths artistic practice is informed by feminist theory and philosophy – a re-thinking of our material reality in which a performative and process-oriented approach to matter and place plays an integral part. Through video, choreography, photography, sound, sculpture and installation her work questions and explores relational epistemologies and  cosmologies past, present, future(s). In 2018/ 2019 she received a Postgraduate Teaching Fellowship in Media Arts and an Institute of the Environment fellowship in artistic research at the School of the Museum of Fine Arts. Recent projects have been shown, screened and installed in museum spaces, galleries, on buildings and in augmented reality at the Museum of Fine Arts (2018, USA), Mountain Time Arts (2018, USA), Difrazioni (2019, Italy). Adelson Gallery (2019 USA), Henie Onstad Contemporary Art Center (2019, Norway), Spectra Festival of Light (Scotland, 2020), Asker kunstforening (2020, Norway).  
Geraldine Vanspauwen (BE) recently graduated in art history and philosophy at the universities of Brussels, Oslo and Ghent. She has written on the topics of visualising sound, video art, political philosophy, religion, poetry and language and is currently curating poetic cahiers and evenings as part of the open collective and underground publishing house BRAAK. Together, they aim to create a contemporary platform for poetry and thought. Her current research interests include the poetics of noise and sound as both materiality and magic, interconnecting nature, society and the sacred. She is currently writing and working on music combining and processing acoustic and electronic sounds nearby Brussels.
Maria Kvalheim (NO) is a scenographer and performer who works with performance, music and sound installation characterized by fragments of historical events and contemporary time. Through scenography she works as a concept developer and as performer in her own work and that of others. Through opening up and asking questions about what a set designer does she currently works with acoustic scenography producing sound that bring out the inherent acoustic and atmospheric potential of space. She is interested in the relationship between movement and space, and how sensory work can affect the movement of an audience. Maria works with Dresden-based theater network, fachbetrieb rita grechen. During 2020, she has initiated an electronic writing circuit where ownership of material is shared, and texts are "recycled" to other group members. This project started as a workshop together with fachbetrieb rita grechen's previous work Piece of Silence.